DES MOINES, IOWA — The legend of Johnny Bright, Drake's greatest athletic hero, springs back to life this month as Johnny graces the cover of two new publications – a magazine and a book.
A beautiful artwork of Bright is on the cover of Iowa History Journal, a magazine that covers all aspects of Iowa history, from sports to entertainment, to business and politics, and various historical figures and events.
The Bulldog star led the entire nation in total offense in both 1949 and 1950, and was leading it again in 1951 when he was knocked out of action in one of the ugliest incidents in college football history. Bright was a first team All-American and finished fifth in the balloting of the 1951 Heisman Trophy despite missing two of the Drake games due to the incident.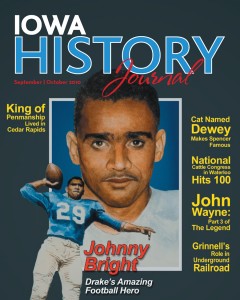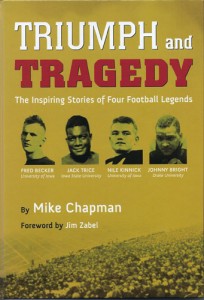 Bright is also one of four Iowa football stars featured in a new book, Triumph and Tragedy: The Inspiring Stories of Football Legends Fred Becker, Jack Trice, Nile Kinnick and Johnny Bright.
There will be a book signing by Mike Chapman, author of Triumph and Tragedy: The Inspiring Stores of Football Legends Fred Becker, Jack Trice, Nile Kinnick and Johnny Bright, prior to Drake's homecoming football game against Marist this Saturday.
Chapman will be signing books at a table behind the Drake Stadium Press Box from noon to 1 p.m. Chapman will donate $10 from every book that Drake sells, for the Bulldogs' football game in Tanzania, Afria, in May of 2011.
"Through the passage of time, Johnny Bright has been somewhat forgotten," said Mike Chapman, publisher of IHJ and the author of the book. "I knew quite a bit about Bright from my days as a sports writer and editor, but I was really impressed when I began digging into his past. Not only was he a superb basketball player and track athlete in high school, but he was one of the state's finest fast-pitch players of all time, and is in the Iowa Fast-Pitch Hall of Fame."
Bright was a first-round draft choice of the Philadelphia Eagles of the NFL, but passed up the NFL to play in the Canadian Football League. When he retired from pro football after 12 years, he was the leading rusher in CFL history!
After graduating from Drake, Bright earned a master's degree in education and began teaching while still in the CFL. He eventually became a principal in Edmonton, the city where he played nearly his entire pro career He died unexpectedly in 1983 when undergoing surgery for a knee injury.
In 2006, Drake named its football field for Johnny Bright. This fall, Edmonton is opening a new middle school named in his honor.
"By all accounts, Johnny Bright was as much a hero off the football field as he was on the field," said Chapman. "It's been a real pleasure to bring him back into the public eye. I owe a great deal of gratitude to Paul Morrison, Mike Mahon and other Drake people for helping me with both the magazine article and the book."
The magazine is on sale now at most Hy Vee stores in the state, and by ordering from IHJ offices (641-792-0920). Issues are $3.50 each, while a year's subscription of the magazine (six issues per year) is $18.95. Other cover subjects have been Herbert Hoover, John Wayne, Donna Reed, Nile Kinnick, the U.S.S. Iowa battleship and Bob Feller. The web site is www.iowahistoryjournal.com.
The foreword to the book was written by Jim Zabel, legendary WHO radio sportscaster. The book features a dozen photos of Bright that have not been seen for decades.
The other subjects are Fred Becker, Iowa's first All-American football player who was killed in combat during World War I; Jack Trice, the Iowa State player who died in a 1923 game and for whom Jack Trice Stadium is named; and Nile Kinnick, Iowa's legendary figure who won the Heisman Trophy in 1939 and died in World War II.
The book is published by Culture House, a company that specializes in biographies and is located in Newton. It is $26.95 and can ordered by calling 641-791-3072 or online through Paypal here.
No comments yet.
To comment on the story, leave a comment below.
To contact Mike, go to the contact page
Upcoming Speeches and Appearances
Check back later for events
Journey: Reflections on 50 Years of Writing, Wrestling, Weightlifting, and Heroes – Order Today!
| | |
| --- | --- |
| | Order today by calling Culture House at 641-791-3072 or online through Paypal by clicking the button below |
Super Book of Wrestling Trivia – Order today!
| | |
| --- | --- |
| | Order today by calling Culture House at 641-791-3072 or online through Paypal by clicking the button below |
Oklahoma Shooter – Back by Popular Demand
| | |
| --- | --- |
| | Oklahoma Shooter: The Dan Hodge Story is $75 plus $5 for shipping and handling. All copies are signed by Dan Hodge and Mike Chapman. You can order by sending a check or money order for $100.00 to Culture House, P.O.. Box 293, Newton, IA 50208, or by calling 641-791-3072. |