Tuesday, September 28th, 2010 | Books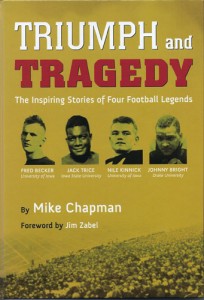 UPDATE: Sold out currently. Used copies are available by calling the number below
Triumph and Tragedy: The Inspiring Stories of Football Legends Fred Becker, Jack Trice, Nile Kinnick and Johnny Bright is available for purchase online through Paypal. The cost is $26.95 + $5 for shipping and handling.
You can also purchase by calling Culture House Books at 641-791-3072.
For details on the book view the previous post regarding it.
No comments yet.
To comment on the story, leave a comment below.
To contact Mike, go to the contact page
Upcoming Speeches and Appearances
Check back later for events
Journey: Reflections on 50 Years of Writing, Wrestling, Weightlifting, and Heroes – Order Today!
| | |
| --- | --- |
| | Order today by calling Culture House at 641-791-3072 or online through Paypal by clicking the button below |
Super Book of Wrestling Trivia – Order today!
| | |
| --- | --- |
| | Order today by calling Culture House at 641-791-3072 or online through Paypal by clicking the button below |
Oklahoma Shooter – Back by Popular Demand
| | |
| --- | --- |
| | Oklahoma Shooter: The Dan Hodge Story is $75 plus $5 for shipping and handling. All copies are signed by Dan Hodge and Mike Chapman. You can order by sending a check or money order for $100.00 to Culture House, P.O.. Box 293, Newton, IA 50208, or by calling 641-791-3072. |