Saturday, November 18th, 2017 | Books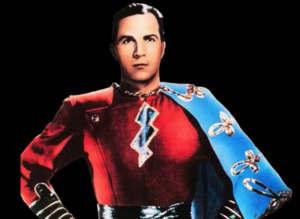 Mike recently was interviewed by Mike Radich, owner of an internet web site dedicated to film personalities and sports stars, about the sensational movie and athletic career of Tom Tyler. Tom appeared in over 100 movies during his long career, starring in many westerns and in 1941 playing the first comic book super hero EVER in the movies, Captain Marvel. Two years later, Then Tom played another comic book hero, The Phantom.
Tom was also a terrific weightlifter during his early movie career, winning a national title and several other major meets and becoming the first American to ever lift 300 pounds overhead. He was the Arnold Schwarzenegger of his era. Tom died tragically in 1954 at the age of 50, from a rare disease called scleroderma. Mike wrote Tom's biography in a 2005 book entitled "The Tom Tyler Story: From Cowboy Star to Superhero." The book is now out of print and considered a collector's item. Click on this site to hear the interview.
Listen to the interview here on youtube: https://youtu.be/HQm4CYyP48Q
No comments yet.
To comment on the story, leave a comment below.
To contact Mike, go to the contact page
Upcoming Speeches and Appearances
Check back later for events
Journey: Reflections on 50 Years of Writing, Wrestling, Weightlifting, and Heroes – Order Today!
| | |
| --- | --- |
| | Order today by calling Culture House at 641-791-3072 or online through Paypal by clicking the button below |
Super Book of Wrestling Trivia – Order today!
| | |
| --- | --- |
| | Order today by calling Culture House at 641-791-3072 or online through Paypal by clicking the button below |
Oklahoma Shooter – Back by Popular Demand
| | |
| --- | --- |
| | Oklahoma Shooter: The Dan Hodge Story is $75 plus $5 for shipping and handling. All copies are signed by Dan Hodge and Mike Chapman. You can order by sending a check or money order for $100.00 to Culture House, P.O.. Box 293, Newton, IA 50208, or by calling 641-791-3072. |