Thursday, August 24th, 2017 | Uncategorized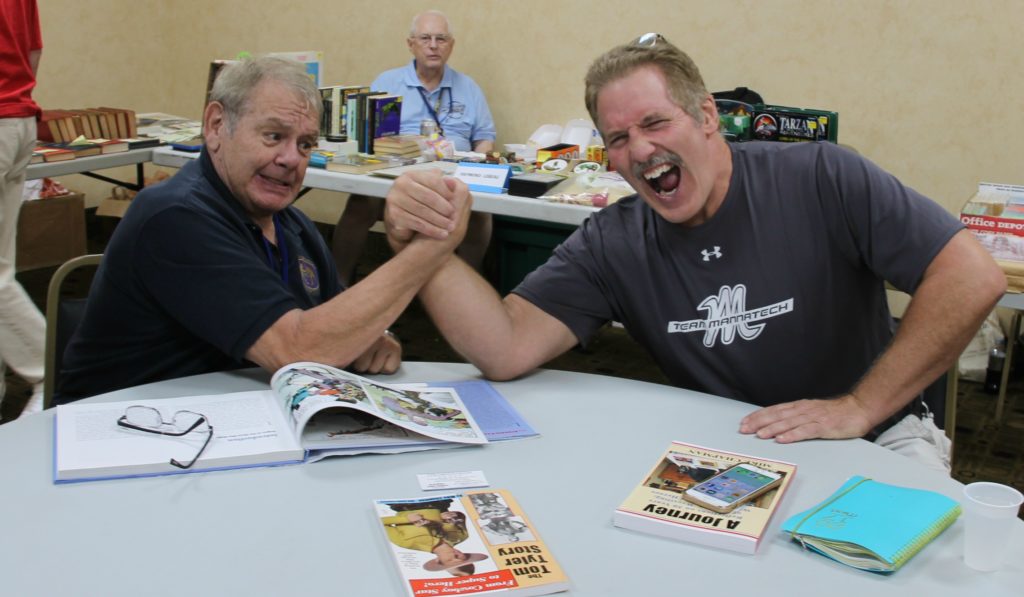 The annual Tarzan convention was held August 3-5 in Coldwater, Michigan, and that gave longtime friends Dan "the Beast" Severn (right) and Mike Chapman (left) a chance to get together again…and do a little arm wrestling for fun. Dan was an All-American wrestler in college at Arizona State who went into mixed martial arts and became a super star. He is a former three-time champion of the UFC (Ultimate Fighting Championships) and is a veteran of nearly 130 cage matches. He was world heavyweight champion in professional wrestling, as well. Dan has appeared in several movies and TV shows and is member of numerous halls of fame. He owns a MMA training facility in Coldwater and came to the Tarzan convention to hang out with Mike, who was a guest speaker and exhibitor. Mike, who is a member of 9 halls of fame, has hosted three Tarzan conventions and is a former recipient of the Golden Lion award, the top honor in the Tarzan world.
No comments yet.
To comment on the story, leave a comment below.
To contact Mike, go to the contact page
Upcoming Speeches and Appearances
Check back later for events
Journey: Reflections on 50 Years of Writing, Wrestling, Weightlifting, and Heroes – Order Today!
| | |
| --- | --- |
| | Order today by calling Culture House at 641-791-3072 or online through Paypal by clicking the button below |
Super Book of Wrestling Trivia – Order today!
| | |
| --- | --- |
| | Order today by calling Culture House at 641-791-3072 or online through Paypal by clicking the button below |
Oklahoma Shooter – Back by Popular Demand
| | |
| --- | --- |
| | Oklahoma Shooter: The Dan Hodge Story is $75 plus $5 for shipping and handling. All copies are signed by Dan Hodge and Mike Chapman. You can order by sending a check or money order for $100.00 to Culture House, P.O.. Box 293, Newton, IA 50208, or by calling 641-791-3072. |