Walnut IA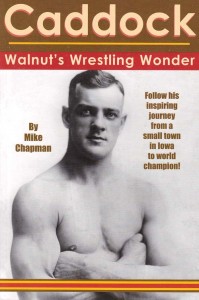 A new book tells the story of the life and athletic career of Earl Caddock, one of the greatest wrestlers in American history who lived most of his life in Iowa and is buried in his adopted hometown of Walnut. Frank Gotch also plays a large role in the book.
CADDOCK: Walnut's Wrestling Wonder, was written by Mike Chapman, noted wrestling author and historian, and published by Culture House Books of Newton, in cooperation with the city of Walnut.
Earl Caddock came off an Iowa farm to become a great amateur wrestler and then won the world heavyweight championship of professional wrestling, back when the sports was a true athletic contest. He was an AAU national champion, in 1914 and 1915, but the cancellation of the 1916 Olympics ended his amateur career.
With Frank Gotch of Humboldt, Iowa, acknowledged as the top athlete in America at the time, Caddock decided to follow Gotch into professional wrestling. On April 9, 1917, he took a perfect record of 79-0 (53-0 as an amateur and 26-0 as a pro) into the ring in Omaha to take on the world champion, Joe Stecher. After more than two hours of grueling wrestling, Earl Caddock emerged as the heavyweight champion of the world.
Upcoming Speeches and Appearances
June 7, 2014 – Catch Wrestling Alliance International Invitational: The Rebirth
August 26, 2014 – Speaking in Forest City
Calendar of Appearances
August 2014
M
T
W
T
F
S
S

28

29

30

31

1

2

3

4

5

6

7

8

9

10

11

12

13

14

15

16

17

18

19

20

21

22

23

24

25

26

Speaking in Forest City

The Winnebago Historical Society will celebrate Forest City's own Bob Baker on Tuesday, August 26, with Iowa History Journal's Mike Chapman, who will speak at several venues in town.

Chapman will speak at the Forest City Rotary Club at noon in Salveson Hall's ballroom (106 S. Sixth St.) at Waldorf College. He will be at the Mansion Museum (336 N. Clark St.) from 1 p.m. to 2:30 p.m. He will speak at Forest Plaza Assisted Living (635 Highway 9, E.) at 3 p.m. He will introduce and play one of Bob Baker's films in the community room at Titonka Savings Bank (101 Highway 69, N.), starting at 7 p.m. Free admission with popcorn and refreshments.

Bob Baker, a singing cowboy in movies in the late 1930s, was born Stanley Leland Weed on Nov. 8, 1910, in Forest City. He was selected to star as a singing cowboy for Universal Studios in 1937, beating out several young men for the position – including Leonard Slye, who went on to become famous as Roy Rogers. Stanley's parents were Guy and Ethel (Leland) Weed. He served in the U.S. Army, was a police officer in Arizona and ran a dude ranch. He died Aug. 29, 1975.

27

28

29

30

31
Super Book of Wrestling Trivia – Order today!
| | |
| --- | --- |
| | Order today by calling Culture House at 641-791-3072 or online through Paypal by clicking the button below |
Oklahoma Shooter – Back by Popular Demand
| | |
| --- | --- |
| | Oklahoma Shooter: The Dan Hodge Story is $22 plus $5 for shipping and handling. You can order by sending a check or money order for $27.00 to Culture House, P.O.. Box 293, Newton, IA 50208, or by calling 641-791-3072. |