Walnut IA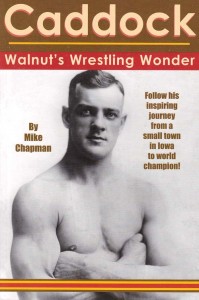 A new book tells the story of the life and athletic career of Earl Caddock, one of the greatest wrestlers in American history who lived most of his life in Iowa and is buried in his adopted hometown of Walnut. Frank Gotch also plays a large role in the book.
CADDOCK: Walnut's Wrestling Wonder, was written by Mike Chapman, noted wrestling author and historian, and published by Culture House Books of Newton, in cooperation with the city of Walnut.
Earl Caddock came off an Iowa farm to become a great amateur wrestler and then won the world heavyweight championship of professional wrestling, back when the sports was a true athletic contest. He was an AAU national champion, in 1914 and 1915, but the cancellation of the 1916 Olympics ended his amateur career.
With Frank Gotch of Humboldt, Iowa, acknowledged as the top athlete in America at the time, Caddock decided to follow Gotch into professional wrestling. On April 9, 1917, he took a perfect record of 79-0 (53-0 as an amateur and 26-0 as a pro) into the ring in Omaha to take on the world champion, Joe Stecher. After more than two hours of grueling wrestling, Earl Caddock emerged as the heavyweight champion of the world.
Upcoming Speeches and Appearances
February 9, 2016 – Gov. Branstad Book Signing - Sullivan Brothers Museum
April 30, 2016 – Charles City Excellence in Education Fundraiser and Awards Banquet
July 3, 2016 – Frank Gotch Catch World Championships
Calendar of Appearances
February 2016

Monday

Tuesday

Wednesday

Thursday

Friday

Saturday

Sunday

Gov. Branstad Book Signing - Newton YMCA

Newton YMCA from 11:20 am-12:30 p.m.

Gov. Branstad Book Signing - Sullivan Brothers Museum

Sullivan Brothers Museum, Waterloo, from 11:30 a.m. – 1 p.m.
Super Book of Wrestling Trivia – Order today!
| | |
| --- | --- |
| | Order today by calling Culture House at 641-791-3072 or online through Paypal by clicking the button below |
Oklahoma Shooter – Back by Popular Demand
| | |
| --- | --- |
| | Oklahoma Shooter: The Dan Hodge Story is $22 plus $5 for shipping and handling. You can order by sending a check or money order for $27.00 to Culture House, P.O.. Box 293, Newton, IA 50208, or by calling 641-791-3072. |