Two Guys Named Jim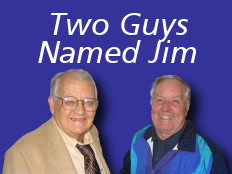 Mike will be a guest on the very popular "Two Guys Named Jim" sports talk show this Sunday night on WHO Radio, starting around 7:30 pm. He will be talking about his new book, Triumph and Tragedy: The Inspiring Stories of Football Legends Fred Becker, Jack Trice, Nile Kinnick and Johnny Bright.
He will also be sure to mention the new book Jim Zabel: I Love It, I Love It, I Love it.
"Two Guys Named Jim" is hosted by legendary sportscaster Jim Zabel and former Iowa State football coach Jim Walden. It has been on the air for 8 years and gets a huge audience, due to the broadcast power of WHO Radio. You can listen on the radio at 1040 AM or on WHO's live radio streaming online here.
Upcoming Speeches and Appearances
October 28, 2017 – History and Legacy of Wrestling Speech - Kothe Memorial Library - Parkersburg, IA
Journey: Reflections on 50 Years of Writing, Wrestling, Weightlifting, and Heroes – Order Today!
| | |
| --- | --- |
| | Order today by calling Culture House at 641-791-3072 or online through Paypal by clicking the button below |
Super Book of Wrestling Trivia – Order today!
| | |
| --- | --- |
| | Order today by calling Culture House at 641-791-3072 or online through Paypal by clicking the button below |
Oklahoma Shooter – Back by Popular Demand
| | |
| --- | --- |
| | Oklahoma Shooter: The Dan Hodge Story is $75 plus $5 for shipping and handling. All copies are signed by Dan Hodge and Mike Chapman. You can order by sending a check or money order for $100.00 to Culture House, P.O.. Box 293, Newton, IA 50208, or by calling 641-791-3072. |