Sukup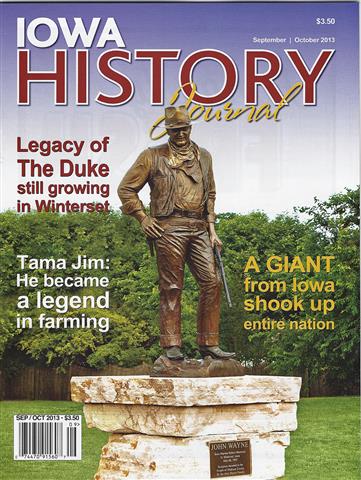 Few Iowans have had a bigger impact on the overall prosperity of the state than "Tama Jim" Wilson, who spent most of his adult life in Traer. Wilson served as Secretary of Agriculture for sixteen years under three presidents – William McKinley, Theodore Roosevelt and William Howard Taft. In this issue of Iowa History Journal, Jerry Harrington provides an in-depth look at this very influential Iowan and also has thumbnail sketches of the other five Iowans who have held that prestigious position.
In addition, Don Doxsie writes about the devastating tornado of 1860 that left the city of Camanche in total ruin; Pat Kinney gives readers a tantalizing trip back in time to WWII with his interview of the widow of one of the five Sullivan brothers; Jeff Stein informs of the period in 1953 when television exploded onto the eastern Iowa scene, and John Skipper writes about the amazing success of the Sukup family in the grain bin business.
All that and much more in the latest issue of Iowa History Journal – including Winterset's latest efforts in expanding the legacy of John Wayne.
Upcoming Speeches and Appearances
Check back later for events
Journey: Reflections on 50 Years of Writing, Wrestling, Weightlifting, and Heroes – Order Today!
| | |
| --- | --- |
| | Order today by calling Culture House at 641-791-3072 or online through Paypal by clicking the button below |
Super Book of Wrestling Trivia – Order today!
| | |
| --- | --- |
| | Order today by calling Culture House at 641-791-3072 or online through Paypal by clicking the button below |
Oklahoma Shooter – Back by Popular Demand
| | |
| --- | --- |
| | Oklahoma Shooter: The Dan Hodge Story is $75 plus $5 for shipping and handling. All copies are signed by Dan Hodge and Mike Chapman. You can order by sending a check or money order for $100.00 to Culture House, P.O.. Box 293, Newton, IA 50208, or by calling 641-791-3072. |