Jack Shelley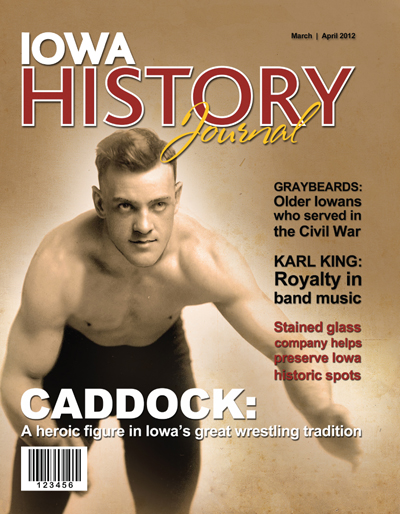 In 1917, Earl Caddock of Walnut, Iowa, defeated Joe Stecher of Dodge, Nebraska, to win the world heavyweight wrestling championship. The victory catapulted Caddock into the national spotlight and made him one of the most popular athletes in the entire nation. Shortly after, he signed up to fight in World War I and eventually suffered lung damage from a mustard gas attack in France. After the war, Earl came home to Iowa and became a successful businessman, family man, and devout Christian. His story, written by wrestling historian Mike Chapman, is both heroic and inspirational.
Readers will also be treated to feature stories on Fort Dodge's legendary marching band composer Karl L. King, older Iowans known as "Graybeards" who served in the Civil War, WHO Radio's Jack Shelley and the Bogenrief glass cutting studio in Spencer.
Also included in this issue:
Lillian Blanche Fearing blazed a trail for blind women over a century ago
How the city of Oelwein got its name and the importance of the railroad to that Fayette County community
A book review of the photographic career of Iowa newspaper professional Joan Liffring-Zug Bourret
Waterloo names its newest school for Fred Becker, Iowa's first All-America football player
The Iowa History Quiz
Columns by our regulars – Arvid Huisman, John McNeer and Mike Chapman
…and much more!
Upcoming Speeches and Appearances
March 21, 2013 – Win Memorabilia Show
May 30, 2013 – Iowa Hall of Pride Volunteer Celebration
June 13, 2013 – Fred Becker Day
June 28, 2013 – Sturgis Falls
July 9, 2013 – Project AWARE
July 19, 2013 – Des Moines Metro Scandanavian Group
August 8, 2013 – Iowa State Fair
Calendar of Appearances
May 2013
M
T
W
T
F
S
S

29

30

1

2

3

4

5

6

7

8

9

10

11

12

13

14

15

16

17

18

19

20

21

22

23

24

25

26

27

28

29

30

Iowa Hall of Pride Volunteer Celebration

Mike will be the featured speaker at the Iowa Hall of Pride annual volunteers celebration, in Des Moines. He will talk about the impact of such famous Iowans as Nile Kinnick and Fred Becker, both All-American football players at the University of Iowa who lost their lives during war time. The event is not open to the public.

31

1

2
Super Book of Wrestling Trivia – Order today!
| | |
| --- | --- |
| | Order today by calling Culture House at 641-791-3072 or online through Paypal by clicking the button below |
Triumph and Tragedy Available – $26.95 plus shipping!
| | |
| --- | --- |
| | Order today by calling Culture House at 641-791-3072 or online through Paypal by clicking the button below |