bill smith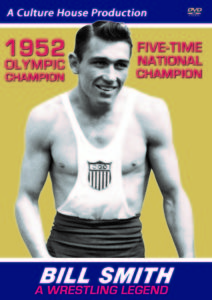 A new documentary, entitled Bill Smith: A Wrestling Legend, tells the story of the life and career of the oldest living Olympic wrestling champion. Mike is the producer of the documentary, which was filmed by Mike Reese of Atlas Media.
Bill Smith grew up in Council Bluffs, Iowa, and became a wrestling star at Iowa State Teachers College, now the University of Northern Iowa. He was NCAA champion in both 1949 and 1950, and closed out his college career undefeated, missing his senior year of competition due to a fluke in the eligibility system.
Bill also won three AAU national freestyle titles, but the crowning moment came when he captured a gold medal in the 160.5-pound class at the 1952 Olympics in Helsinki, Finland.
As a coach, Bill led the San Francisco Olympic Club to seven national team titles and also coached high schools in two separate states (California and Illinois) to team titles, one of just three coaches to ever do that.
February 10, 2017 – The inaugural class for the Cedar Rapids Jefferson High School Athletic Hall of Fame will be inducted prior to the Jefferson basketball game and Mike has been asked to represent Larry and Ted Lawrence, who are both deceased. There will be a social in the Jefferson Cafeteria at 4:30 p.m., with a hall of fame ceremony to follow at 5:15 p.m.
There will also be a brief presentation between the girls and boys varsity basketball games in the gymnasium and then a social and greeting time back in the cafeteria.
Larry Lawrence was an all-state football and basketball player at Jefferson and went on to become a star quarterback at Iowa for two seasons. He also played two seasons each in the Canadian Football League and the NFL. Larry died of heart problems in 2012 at the age of 63. Mike and Larry became good friends when Mike was sports editor of the Cedar Rapids Gazette in the years 1978 to 1984 and they even co-hosted the Mr. Iowa contest in 1983, when Larry owned Ra Power Fitness Center. They remained in close contact until Larry's death. His father, Ted, was a legendary high school coach at Jefferson for many years.
 
March 1, 2017 – Mike is producing a documentary on Bill Smith, one of the most important figures in American wrestling history. Bill was 1952 Olympic wrestling champion, an undefeated, 2-time NCAA champion in college and coach of the San Francisco Olympic Club team, leading it to 7 national team tiles in the 1960s. In this documentary, you will see many rare photos of Bill's illustrious career, and be with Bill as the University of Northern Iowa dedicates its official mat in his honor in 2013. Then Bill reminisces about his 70 years in the Sport of Wrestling. Coming in March of 2017.
March 16-18, 2017 – As a guest of the WIN Memorabilia Show between sessions of the NCAA Wrestling Championships in St. Louis, Mike will be signing many of his 28 published books and will have the new Bill Smith DVD documentary available. Dale Anderson, two-time NCAA champion for Michigan State in the 1960s, will be with Mike and selling copies of his new book, "A Spartan Journey: Michigan State's 1967 Miracle on the Mat". Mike wrote the introduction to the book and Dan Gable wrote the foreword. The WIN Memorabilia Show is free and open to the public.
March 29, 2017 – Mike will be the featured speaker at Flag Day held at the Knoxville Library. He will give a talk on "Iowans of Impact", based on his book of the same name, and on his book "Triumph and Tragedy" which tells the stories of football heroes Fred Becker and Nile Kinnick, who lost heir lives while serving in World War I and World War II, respectively. The talk begins at I p.m. and is open to the public. Contact the Knoxville Library for further details.
Mike has added a few new events to his schedule for the next few months.
June 17 – Walnut will named a street Earl Caddock Memorial Drive during its big Antique City weekend. Members of the Caddock family came from Maryland and Texas to help celebrate the event. Earl Caddock was world heavyweight wrestling champion from 1917 to 1920 and lived in Walnut. Mike is the author of the book CADDOCK: Walnut's Wrestling Wonder, and gave a speech at the 9 a.m. ceremony, and then held a book signing.
July 4 – The Frank Gotch Statue unveiling will take place in Bicknell Park in Humboldt, at 1 p.m. The eight-foot bronze statue is the project of a special committee in Humboldt, the hometown of the legendary professional world heavyweight champion (1908-1916). Mike is on the statue committee and will make a speech about Frank's legacy. Among the special guests are Bill Smith, 1952 Olympic champion (UNI), and Brad Rheingans, a two-time Olympian who also wrestled professionally for 14 years.
July 6 – The Iowa Cubs have declared this date as Iowa History Journal Day and Mike and Bev will set up a booth in the entryway, with Iowa History Journal items for display and for sale. The first 100 fans to stop by the booth will receive a free copy of Iowa History Journal, some with Bob Feller on the cover. The gates open at 5:45 p.m. and the game starts at 7:30 p.m.
July 15 – Mike will be one of the Iowa authors featured at the Linn Creek Arts Festival in Marshalltown. Over 60 artists, 12 authors and a wide variety of children's entertainment will highlight the 4th annual festival, from 10 a.m. to 4 p.m. The event is sponsored by the Marshall County Arts & Culture Alliance, at the Fisher Community Center, 709 S. Center Street in Marshalltown. Over 2,000 attended last year and admission is free. Other attractions are the world champion Yo-Yo stars, kite flyers, kite memorabilia, as well as numerous food, wine and beer vendors. For more detail, see: www.linncreekartsfestival.com.
August 9-19– For the third straight year, Iowa History Journal will have a booth at the Iowa State Fair in Des Moines. The booth will be on the second floor of the Ag Building, above the Butter Cow exhibit. Back issues of Iowa History Journal and over a dozen of the books Mike has written will be for sale.
Upcoming Speeches and Appearances
Check back later for events
Journey: Reflections on 50 Years of Writing, Wrestling, Weightlifting, and Heroes – Order Today!
| | |
| --- | --- |
| | Order today by calling Culture House at 641-791-3072 or online through Paypal by clicking the button below |
Super Book of Wrestling Trivia – Order today!
| | |
| --- | --- |
| | Order today by calling Culture House at 641-791-3072 or online through Paypal by clicking the button below |
Oklahoma Shooter – Back by Popular Demand
| | |
| --- | --- |
| | Oklahoma Shooter: The Dan Hodge Story is $75 plus $5 for shipping and handling. All copies are signed by Dan Hodge and Mike Chapman. You can order by sending a check or money order for $100.00 to Culture House, P.O.. Box 293, Newton, IA 50208, or by calling 641-791-3072. |