Saturday, December 3rd, 2011 | Wrestling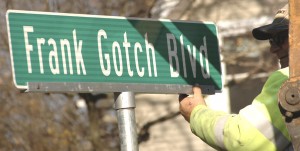 A new sign for a street in Humboldt, Iowa, has been erected in honor of the great world heavyweight wrestling champion at the turn of the last century. Gotch was born and raised on a farm just south of Humboldt and claimed the town in north central Iowa as his home his entire life. The renaming of the street came at the request of the Frank Gotch Statue Committee, which is raising funds to build a statue to Gotch in Bicknell Park. Gotch Avenue runs in front of the park area. Gotch died in his Humboldt home on December 16, 1917, and is buried in Union Cemetery northwest of town. He is the most famous citizen ever produced by the town and the committee worked with the city council to get the street named in his honor.
No comments yet.
To comment on the story, leave a comment below.
To contact Mike, go to the contact page
Upcoming Speeches and Appearances
February 9, 2016 – Gov. Branstad Book Signing - Sullivan Brothers Museum
April 30, 2016 – Charles City Excellence in Education Fundraiser and Awards Banquet
July 3, 2016 – Frank Gotch Catch World Championships
Calendar of Appearances
February 2016

Monday

Tuesday

Wednesday

Thursday

Friday

Saturday

Sunday

Gov. Branstad Book Signing - Newton YMCA

Newton YMCA from 11:20 am-12:30 p.m.

Gov. Branstad Book Signing - Sullivan Brothers Museum

Sullivan Brothers Museum, Waterloo, from 11:30 a.m. – 1 p.m.
Super Book of Wrestling Trivia – Order today!
| | |
| --- | --- |
| | Order today by calling Culture House at 641-791-3072 or online through Paypal by clicking the button below |
Oklahoma Shooter – Back by Popular Demand
| | |
| --- | --- |
| | Oklahoma Shooter: The Dan Hodge Story is $22 plus $5 for shipping and handling. You can order by sending a check or money order for $27.00 to Culture House, P.O.. Box 293, Newton, IA 50208, or by calling 641-791-3072. |