The International Wrestling Institute and Museum
The International Wrestling Institute and Museum in Newton opened its doors to the public on September 19, 1998, after a year of planning and construction. However, it was created in the mind of Mike Chapman, the founder and former director of the museum, nearly 40 years ago.
Considered the leading authority on wrestling history, Mike Chapman has been participating in, watching, studying, writing about, and collecting the history of wrestling since his school days. Authoring sixteen books on the sport, Mike has been a proponent of educating and maintaining its history for ours and further generations. This is where the idea of the Museum was spawned with a simple goal, expressed as the Museum's mission statement: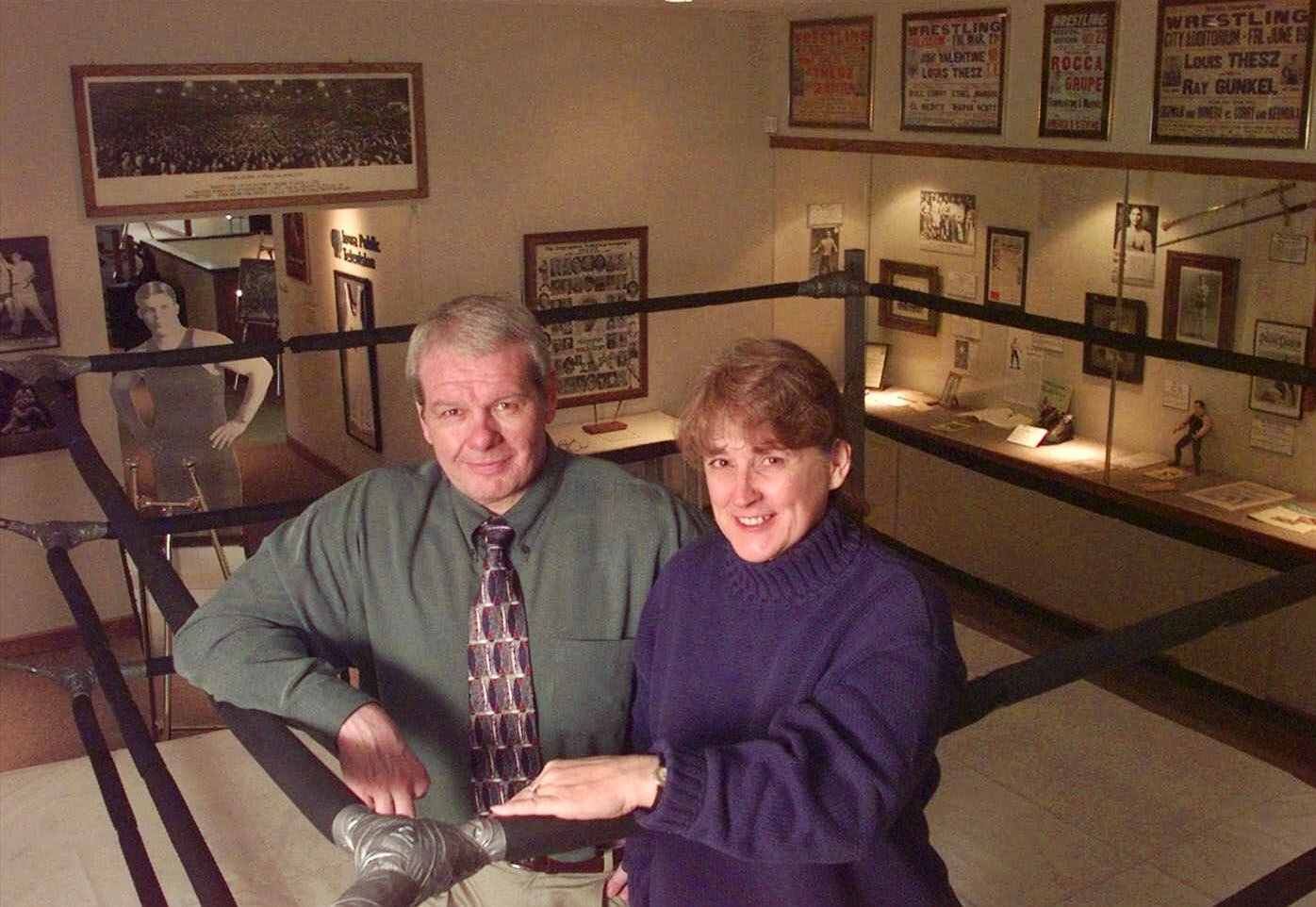 Mike and Bev pose for a photo in the ring in the Pro Wing of the Museum in Newton.
The mission of the International Wrestling Institute and Museum is to preserve, maintain and promote the long and illustrious heritage of mankind's oldest sport in a manner which will benefit the sport, educate and entertain the public, and to inspire youth to dream big and work hard.
In 2008, the museum was moved to Waterloo, Iowa, and the name of Dan Gable was added. Today the Dan Gable Museum boasts over 600 displays as it takes visitors through the history of wrestling, from ancient Greece through the present day Olympics. The Professional Wing of the museum has a half-size wrestling ring, a wall devoted to the legendary Frank Gotch, the George Tragos/Lou Thesz Professional Wrestling Hall of Fame, and many other exciting displays.
Mike retired as the Museum's Executive Director on October 31, 2009, after serving in that position for eleven years, and is no longer involved with the museum's operations.