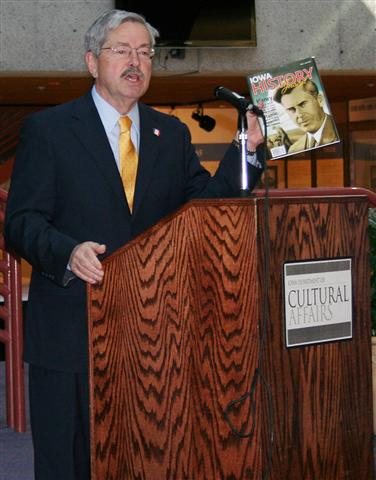 At national history day on May 7, 2012, Governor Terry Branstad addressed a large group at the iowa state historical society museum and held up Iowa
History Journal saying everyone should subscribe to the magazine.
Iowa History Journal
Check out Iowa History Journal's website at http://www.iowahistoryjournal.com
Subscribe today! Visit Iowa History Journal's subscription page.
The goal of Iowa History Journal is to keep alive the memories of Iowa's heritage in a manner that is both educational and entertaining. We want readers to take an active part in the publication. We encourage letters to the editor from readers, and ideas for stories and photographs.
We print six issues a year in the months of January/February, March/April, May/June, July/August, September/October, and November/December.
We hope you will enthusiastically embrace Iowa History Journal and tell others about it, and subscribe. It will make a superb gift to family members or friends who have moved out of state and want to retain their Iowa ties. It will be a great gift for any friend or relative who lives in the state.
Among our loyal readers are two Iowa governors, a former United States congressman, two Olympic champions, a nationally known syndicated comic strip artist, and a former Miss Universe. We hope all Iowans will embrace Iowa History Journal and welcome it into their schools, offices and homes. We are trying our best to make it a valuable part of your life and provide some delightful breaks from the stress-packed world we live in.
---
Issue Number 1 – January 2009
On the inside:

Col. Bud Day, Military Hero
Buffalo Bill, Old West Legend
Fred Maytag, Business Genius
Doreen Wilbur, Olympic Champion
Indian Tribes in Iowa
Iowa History Quiz
Columns by Iowans

Issue Number 2 – March 2009
On the inside:

President From West Branch
Wyatt Earp in Pella
Carver-Hawkeye Namesake
Everly Brothers Rocked On
Indian Tribes in Iowa
What's in a Name
Columns by Iowans

Issue Number 3 – May 2009
On the inside:

Still Iowa's Sweetheart, Donna Reed
Newburg's Major Leaguer, Jackie Collum
Meredith's Publishing Empire
Andy Williams of Wall Lake
Indian Tribes in Iowa
What's in a Name – Council Bluffs
Columns by Iowans