Tuesday, September 14th, 2010 | Books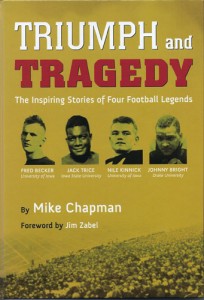 Four iconic Iowa sports figures are featured in a new book entitled Triumph and Tragedy: The Inspiring Stories of Football Legends Fred Becker, Jack Trice, Nile Kinnick and Johnny Bright.
The book was written by Mike Chapman and is published by Culture House, an Iowa company that specializes in biographies. It features 57 photos, many of which have never been published before, and a foreword by Jim Zabel, legendary WHO radio sportscaster.
Triumph and Tragedy is a book that Chapman has been working on for several years. It tells the stories of four football heroes at the University of Iowa, Iowa State and Drake, each of who faced tragedy in life after excelling on the football field of competition.
Fred Becker was an all-state football player and popular student at East Waterloo who became the very first All-American football player in the history of the University of Iowa, in 1916. He signed up to fight in World War I and lost his life in France on July 18, 1918, and was awarded the Distinguished Service Cross, the Belgian War Cross and the French Cuerre de Guerre. His funeral in Waterloo in 1921 drew over 5,000 mourners. American Legion Post 138 is named for him and another World War I hero.
Jack Trice played just one full game at Iowa State, in 1923, and was severely injured in the second game. He died several days later on the Ames campus. Iowa State is the only college in the nation to have its football stadium named for an African-American athlete.
Nile Kinnick is considered the finest scholar-athlete in Iowa history and won the Heisman Trophy in 1939. He was a Phi Beta Kappa scholar and president of his senior class at Iowa. He passed up professional football to enter law school, and lost his life while training as a fighter pilot during World War II. In 1972, Iowa named its football stadium after him.
Johnny Bright was a sensational athlete at Drake University and led the entire nation in total offense in 1949 and 1950, and was leading it again in 1951 when he became the victim of one of the ugliest episodes in college football history. He later became a major star in the Canadian Football League. Drake named its football field after him in 2006.
"These are outstanding men who lived inspirational lives, and they deserve to be honored and remember," said Chapman. "All four stories go far beyond athletics and can inspire young people in Iowa to reach for the highest levels of achievement. Their stories also touch the hearts of older Iowans."
Chapman retired from a 35-year newspaper career in 2002 and has written 22 books. One of them – Lowell Park – is now in pre-production in Hollywood. It is a historical novel about Ronald Reagan as a lifeguard in the summer of 1932.
He is also the publisher of Iowa History Journal, a new magazine that is devoted to covering historical moments and people in Iowa's past. Past issues have featured Herbert Hoover, Nile Kinnick, Donna Reed, John Wayne, Bob Feller and Fred Becker on the covers.
For more information on the book, call Culture House at 641-791-3072.
The book is available through purchase via Paypal or calling Culture House. To purchase through Paypal, use the following button. The cost is $26.95 plus $5.00 for shipping and handling.
No comments yet.
To comment on the story, leave a comment below.
To contact Mike, go to the contact page
Upcoming Speeches and Appearances
June 7, 2014 – Catch Wrestling Alliance International Invitational: The Rebirth
August 26, 2014 – Speaking in Forest City
Calendar of Appearances
August 2014
M
T
W
T
F
S
S

28

29

30

31

1

2

3

4

5

6

7

8

9

10

11

12

13

14

15

16

17

18

19

20

21

22

23

24

25

26

Speaking in Forest City

The Winnebago Historical Society will celebrate Forest City's own Bob Baker on Tuesday, August 26, with Iowa History Journal's Mike Chapman, who will speak at several venues in town.

Chapman will speak at the Forest City Rotary Club at noon in Salveson Hall's ballroom (106 S. Sixth St.) at Waldorf College. He will be at the Mansion Museum (336 N. Clark St.) from 1 p.m. to 2:30 p.m. He will speak at Forest Plaza Assisted Living (635 Highway 9, E.) at 3 p.m. He will introduce and play one of Bob Baker's films in the community room at Titonka Savings Bank (101 Highway 69, N.), starting at 7 p.m. Free admission with popcorn and refreshments.

Bob Baker, a singing cowboy in movies in the late 1930s, was born Stanley Leland Weed on Nov. 8, 1910, in Forest City. He was selected to star as a singing cowboy for Universal Studios in 1937, beating out several young men for the position – including Leonard Slye, who went on to become famous as Roy Rogers. Stanley's parents were Guy and Ethel (Leland) Weed. He served in the U.S. Army, was a police officer in Arizona and ran a dude ranch. He died Aug. 29, 1975.

27

28

29

30

31
Super Book of Wrestling Trivia – Order today!
| | |
| --- | --- |
| | Order today by calling Culture House at 641-791-3072 or online through Paypal by clicking the button below |
Oklahoma Shooter – Back by Popular Demand
| | |
| --- | --- |
| | Oklahoma Shooter: The Dan Hodge Story is $22 plus $5 for shipping and handling. You can order by sending a check or money order for $27.00 to Culture House, P.O.. Box 293, Newton, IA 50208, or by calling 641-791-3072. |