Wednesday, January 5th, 2011 | Books, Wrestling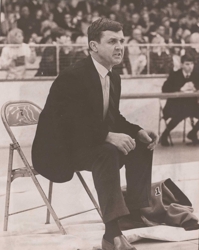 Working in collaboration with Don Huff, longtime wrestling coach at West Waterloo High School, Mike Chapman has co-authored a new book entitled SIDDENS! Win With Humility, Lose With Dignity… But Don't Lose!"
The book is the biography of Bob Siddens, regarded in some circles as the greatest high school wrestling coach in American history!
Bob Siddens led West Waterloo High School to 11 Iowa state wrestling championships and seven second-place finishes in his 27-year coaching career. Along the way, his teams had 14 undefeated seasons and a winning streak of 88 in a row! His coaching style and leadership impacted thousands of young students.
SIDDENS! Win With Humility, Lose With Dignity …. But Don't Lose! is loaded with testimonials and photos from Bob's legendary career. The foreword was written by his most famous pupil, Dan Gable, World and Olympic champion, and coach of 15 NCAA championship teams during his tenure at the University of Iowa. The introduction is by another famous Siddens pupil, Dale Anderson, a two-time NCAA champion at Michigan State and now an attorney in the Chicago area.
"I have wanted to write a book about Coach Siddens for many years because I think his story will help other coaches, in all walks of life, realize the potential they have to motivate and mentor others," said Huff. "This book was a collaborative effort – from Bob Siddens to Dan Gable and Dale Anderson, from Mike Chapman to many of the young men who wrestled for bob during his incredible career."
"Bob Siddens had a unique way of reaching out to people and inspiring them to be the best they could be," said Chapman, who retired from a 35-year newspaper career in 2002 and is the publisher of Iowa History Journal magazine. "It was a real honor to work with Don Huff on this book. I think every wrestling fan, and every coach in any sport, will enjoy reading it."
The book chronicles Siddens life from growing up in Eagle Grove, to his years in the Army and as a student athlete at Iowa State Teachers College. It includes a record section of Coach Siddens' 27 years at West High, nearly 40 photos, and letters from former wrestlers and associates.
The book is available by ordering through DWH Productions, 3444 Rosehill Terrace, Waterloo, IA, 50701 or by calling 319-233-2404. The book is $19.95 plus $5 shipping and handling.
No comments yet.
To comment on the story, leave a comment below.
To contact Mike, go to the contact page
Upcoming Speeches and Appearances
Check back later for events
Journey: Reflections on 50 Years of Writing, Wrestling, Weightlifting, and Heroes – Order Today!
| | |
| --- | --- |
| | Order today by calling Culture House at 641-791-3072 or online through Paypal by clicking the button below |
Super Book of Wrestling Trivia – Order today!
| | |
| --- | --- |
| | Order today by calling Culture House at 641-791-3072 or online through Paypal by clicking the button below |
Oklahoma Shooter – Back by Popular Demand
| | |
| --- | --- |
| | Oklahoma Shooter: The Dan Hodge Story is $75 plus $5 for shipping and handling. All copies are signed by Dan Hodge and Mike Chapman. You can order by sending a check or money order for $100.00 to Culture House, P.O.. Box 293, Newton, IA 50208, or by calling 641-791-3072. |