Tuesday, January 13th, 2015 | Books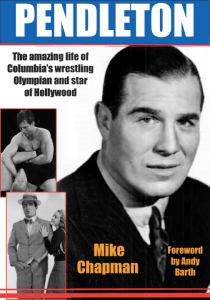 The amazing career of Nat Pendleton is the subject of an exciting new book by Mike, generally recognized as one of the nation's leading wrestling historians and authors. Pendleton is one of the most important figures in early American wrestling history. Born in Iowa in 1895, he was an undefeated college star at Columbia University in New York City, a two-time AAU national champion, and silver medal winner in the 1920 Olympics.
Nat turned to pro wrestling during its transitional period from athletic contest to show business and participated in one of the most talked-about matches in pro wrestling history. His opponent in that 1923 match was the feared submission expert, John Pesek, and the outcome has been the subject of considerable discussion for nearly nine decades.
Shortly after the match, Nat moved to Hollywood and appeared in nearly 100 movies – one of the most successful athletes to ever appear in films!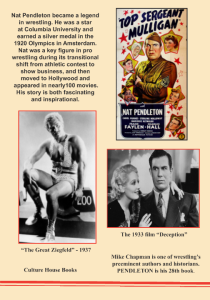 The book has 60 photos, some never published before. The foreword was written by Andy Barth, who was a Colombia University wrestling team captain many decades after Nat Pendleton held the same position. Andy is a member of the National Wrestling Hall of Fame and one of wrestling's top supporters. Here is part of what Andy wrote: "I want to thank Mike Chapman for working so diligently to research and write this biography. This is a great read that touches at the core of what the sport of wrestling can do for young men and women to strengthen and develop their character in the areas of determination, perseverance and a will to succeed. I am proud to have walked the same halls and shared in the same heritage as Nat Pendleton."
You can add this book to your wrestling library for just $14.95, and $5 for shipping and handling. Send a check or money order for $19.95 to — Culture House, P.O. Box 293, Newton, Iowa, 50208, or call 641-791-3072 for more information.
No comments yet.
To comment on the story, leave a comment below.
To contact Mike, go to the contact page
Upcoming Speeches and Appearances
Check back later for events
Journey: Reflections on 50 Years of Writing, Wrestling, Weightlifting, and Heroes – Order Today!
| | |
| --- | --- |
| | Order today by calling Culture House at 641-791-3072 or online through Paypal by clicking the button below |
Super Book of Wrestling Trivia – Order today!
| | |
| --- | --- |
| | Order today by calling Culture House at 641-791-3072 or online through Paypal by clicking the button below |
Oklahoma Shooter – Back by Popular Demand
| | |
| --- | --- |
| | Oklahoma Shooter: The Dan Hodge Story is $75 plus $5 for shipping and handling. All copies are signed by Dan Hodge and Mike Chapman. You can order by sending a check or money order for $100.00 to Culture House, P.O.. Box 293, Newton, IA 50208, or by calling 641-791-3072. |