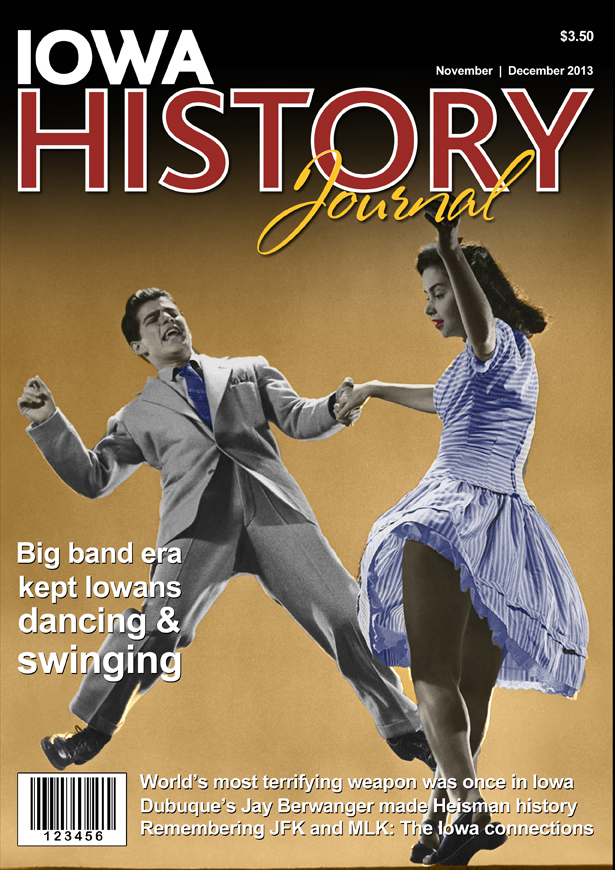 On 300 plus acres of land outside the town of Missouri Valley are the remnants of a forgotten piece of Cold War history. Fifty years ago, on Iowa soil, stood an incredible weapon that could reach speeds of 15,500 miles per hour and travel 9,000 miles. On impact, it generated an explosion almost 175 times the power and destruction force of the nuclear bomb dropped on Japan to end World War II. It was the Atlas-D Intercontinental Ballistic Missile, the first ICBM of the United States and the last resort for preservation of the county. Historian Michael Reece has written a spellbinding story of Iowa's "Guardian of Peace."
In addition, Brian Cooper writes about Dubuque's Jay Berwanger, who in 1935 became the first winner of the legendary Heisman Trophy: Jeff Stein describes the stunning veterans museum in Waterloo named after the Sullivan brothers: Don Doxsie describes the successful business Happy Joe's……and two writers, Jessica Lowe and Bob Denny, recall the role of Iowans in the stories of John F. Kennedy and Martin Luther King.
Contents
3 – Publisher's Perspective: World War II horrors do not fade easily by Mike Chapman
4 – "Guardian of Peace" once rested near small Iowa town by Michael Reese
8 – "Dance Fever" – Remembering when bands and ballrooms kept Iowa swinging by Robert Weast
13 – Country Roads: An Iowa Thanksgiving full of food & memories by Arvid Huisman
14 – Veterans museum in Waterloo has impact all across the nation by Jeff Stein
19 – Jay Berwanger was first to win Heisman Trophy by Brian Cooper
23 – The Way We Were: Horses worked hard on old Iowa farms by John McNeer
24 – What's In A Name: Orange City has strong Dutch heritage by Mark Yount
26 – Role of Iowan in JFK probe stirred controversy by Jessica Lange
27 – MLK's "dream" speech is remembered by ex-Iowa coach and writer by Bob Denney
29 – Happy Joe's dream was born in Quad Cities by Don Doxsie
31 – Book Review: Governor Ray takes Iowans around the world
33 – Iowa History Quiz
36 – Letters to the Editor
No comments yet.
To comment on the story, leave a comment below.
To contact Mike, go to the contact page
Upcoming Speeches and Appearances
Check back later for events
Journey: Reflections on 50 Years of Writing, Wrestling, Weightlifting, and Heroes – Order Today!
| | |
| --- | --- |
| | Order today by calling Culture House at 641-791-3072 or online through Paypal by clicking the button below |
Super Book of Wrestling Trivia – Order today!
| | |
| --- | --- |
| | Order today by calling Culture House at 641-791-3072 or online through Paypal by clicking the button below |
Oklahoma Shooter – Back by Popular Demand
| | |
| --- | --- |
| | Oklahoma Shooter: The Dan Hodge Story is $75 plus $5 for shipping and handling. All copies are signed by Dan Hodge and Mike Chapman. You can order by sending a check or money order for $100.00 to Culture House, P.O.. Box 293, Newton, IA 50208, or by calling 641-791-3072. |