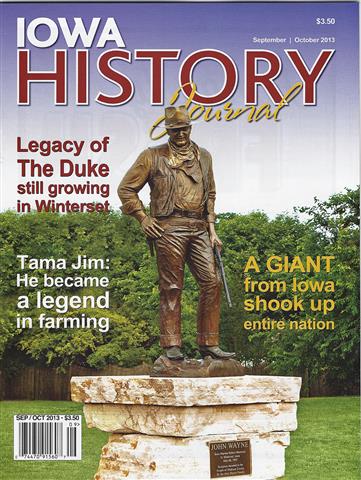 Few Iowans have had a bigger impact on the overall prosperity of the state than "Tama Jim" Wilson, who spent most of his adult life in Traer. Wilson served as Secretary of Agriculture for sixteen years under three presidents – William McKinley, Theodore Roosevelt and William Howard Taft. In this issue of Iowa History Journal, Jerry Harrington provides an in-depth look at this very influential Iowan and also has thumbnail sketches of the other five Iowans who have held that prestigious position.
In addition, Don Doxsie writes about the devastating tornado of 1860 that left the city of Camanche in total ruin; Pat Kinney gives readers a tantalizing trip back in time to WWII with his interview of the widow of one of the five Sullivan brothers; Jeff Stein informs of the period in 1953 when television exploded onto the eastern Iowa scene, and John Skipper writes about the amazing success of the Sukup family in the grain bin business.
All that and much more in the latest issue of Iowa History Journal – including Winterset's latest efforts in expanding the legacy of John Wayne.
Contents
3 – Publisher's Perspective: An amazing Iowan has passed from the scene by Mike Chapman
4 – Few ever served our nation like "Tama Jim" Wilson by Jerry Harrington
9 – Tornado of 1860 left Camanche in total ruin by Don Doxsie
12 – Country Roads: You might be an Iowan if….. by Arvid Huisman
13 – John Wayne Museum takes big step forward by Mike Chapman
15 – Waterloo widow had front-row seat to Sullivans story by Pat Kinney
17 – In 1953, TV exploded onto eastern Iowa scene by Jeff Stein
21 – The Way We Were: Chickens made farm life interesting …. and yucky by John McNeer
22 – Sukups' grain bin business put rural Iowa on map by John Skipper
24 – Fort Dodge giant fooled many all across the nation by Al Nelson
28 – This Fort Dodge giant was real … and popular by Al Nelson
29 – Iowa Conference has produced many top stars by Buck Turnbull
31 – What's In A Name: Pocahontas keeps Indian legacy alive
33 – Iowa History Quiz
36 – Letters to the Editor
No comments yet.
To comment on the story, leave a comment below.
To contact Mike, go to the contact page
Upcoming Speeches and Appearances
Check back later for events
Journey: Reflections on 50 Years of Writing, Wrestling, Weightlifting, and Heroes – Order Today!
| | |
| --- | --- |
| | Order today by calling Culture House at 641-791-3072 or online through Paypal by clicking the button below |
Super Book of Wrestling Trivia – Order today!
| | |
| --- | --- |
| | Order today by calling Culture House at 641-791-3072 or online through Paypal by clicking the button below |
Oklahoma Shooter – Back by Popular Demand
| | |
| --- | --- |
| | Oklahoma Shooter: The Dan Hodge Story is $75 plus $5 for shipping and handling. All copies are signed by Dan Hodge and Mike Chapman. You can order by sending a check or money order for $100.00 to Culture House, P.O.. Box 293, Newton, IA 50208, or by calling 641-791-3072. |