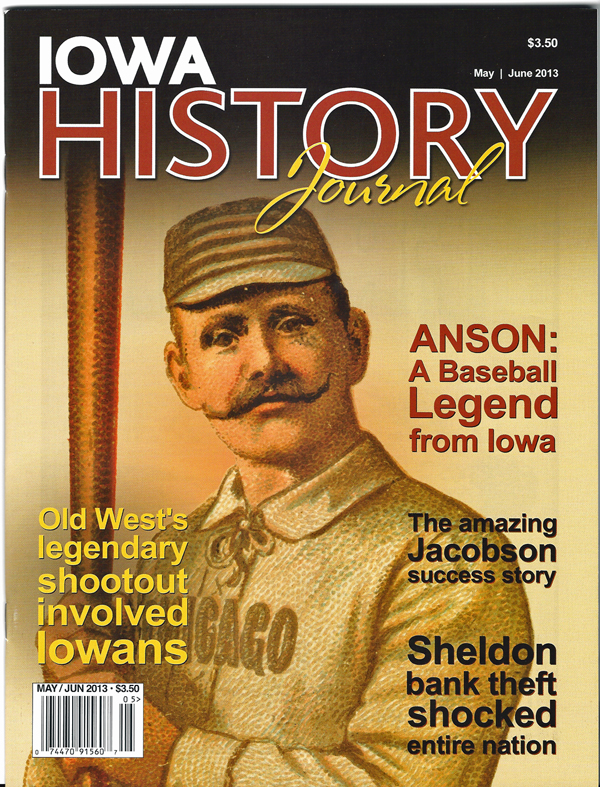 Adrian Anson was born and raised in Marshalltown…..and learned how to play baseball there, as well. In fact, he became so good at the sport that he played 27 years in the major leagues and was voted into the Baseball Hall of Fame in Cooperstown, New York. Known as Cap Anson, the native Iowan was also a controversial figure due to his stance on race relations in baseball. Don Doxsie, one of Iowa's top sportswriters of the past thirty years, offers a penetrating look at the life and career of Cap Anson.
Today, the town of Sheldon, in the northwest corner of the state, is best known for being the hometown of Olympic wrestlers Tom and Terry Brands. Back in 1961, however, Sheldon made national headlines when one of its citizens was arrested for embezzling over $2,000,000! The story of Burnice Geiger and her shocking theft – in her own father's bank – was front page all over the state and much of the country.
The gunfight at the O.K. Corral took place in 1881 in Tombstone, Arizona, and has since become a part of Old West folklore. Little known is the fact that the majority of the principals involved in that legendary event had Iowa backgrounds. Writers Kyle Martin and Mike Chapman offer an intriguing look back into the past.
Contents
3 – Publisher's Perspective: 'Act of Valor' award honors Bob Feller by Mike Chapman
4 – Cap Anson became baseball's first superstar by Don Doxsie
9 – Baxter actress Claire Dodd was in 60 movies by Larry Hurto
13 – Country Roads: Overalls offer comfort and much more…..by Arvid Huisman
14 – Iowans played key roles in West's biggest gunfight by Kyle Martin & Mike Chapman
19 – Sheldon bank theft shocked nation back in 1961 by Korrie Merley
23 – The Way We Were: Two classic cars from the year 1928 by John McNeer
24 – Jacobson businesses make huge impact all around nation by John Skipper
27 – What's In a Name: Lush, green fields attracted settlers to this Iowa area by Michael Swanger
29 – Kinnick autograph found on football by Jason Chapman
31 – Book reviews: Another volume on Herbert Hoover by Jeff Stein
33 – Iowa History Quiz
36 – Letters to the Editor
No comments yet.
To comment on the story, leave a comment below.
To contact Mike, go to the contact page
Upcoming Speeches and Appearances
Check back later for events
Journey: Reflections on 50 Years of Writing, Wrestling, Weightlifting, and Heroes – Order Today!
| | |
| --- | --- |
| | Order today by calling Culture House at 641-791-3072 or online through Paypal by clicking the button below |
Super Book of Wrestling Trivia – Order today!
| | |
| --- | --- |
| | Order today by calling Culture House at 641-791-3072 or online through Paypal by clicking the button below |
Oklahoma Shooter – Back by Popular Demand
| | |
| --- | --- |
| | Oklahoma Shooter: The Dan Hodge Story is $75 plus $5 for shipping and handling. All copies are signed by Dan Hodge and Mike Chapman. You can order by sending a check or money order for $100.00 to Culture House, P.O.. Box 293, Newton, IA 50208, or by calling 641-791-3072. |