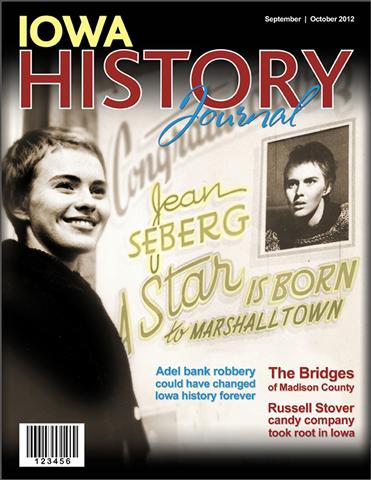 Jean Seberg has emerged in recent years as one of the most enigmatic figures in Iowa history. In the latest issue of Iowa History Journal, Michael Swanger explores the many aspects of the life and career of this film legend. Swanger traces her life from humble origins in Marshalltown to her stunning selection by legendary producer, Otto Preminger, to star in the movie "St. Joan" and through her storied career in Hollywood and overseas. He discusses the role the FBI played in the later stages of her life and her tragic death at the age of 40, which is still a subject of controversy today.
Readers will also be treated to feature stories on many other fascinating persons and moments in Iowa history – ranging from a bank robbery in Adel that could have influenced history in many ways to the famous candy company begun by the Stovers.
Also included in this issue:
The history of covered bridges in Madison County
The reemergence of a beautiful theatre in Toledo
An Iowa restaurant which has been in existence for 172 years
A tough baseball manager with strong Iowa connections
More Iowans involved with the Titanic tragedy
The city of Humboldt honors Frank Gotch with a statue
Columns by our regulars – Arvid Huisman, John McNeer and Mike Chapman
…and much more!
Contents
3 – Publisher's Perspective: Story of a miracle that began in Iowa by Mike Chapman
4 – Jean Seberg's legacy soaring again at home by Michael Swanger
9 – Bank robbery in Adel could have had huge impact on Iowa history by Mark Hanson
12 – Famous candy company has roots in Iowa by John Skipper
13 – Country Roads: Names of Iowa of towns can be confusing by Arvid Huisman
14 – Humboldt statue honors Frank Gotch
18 – Tough baseball manager was a hero to many Iowans by Jim Young
21 – Covered Bridges were hot long before the famous movie by Mary Halstrum
23 – The Way We Were: Remember when TV arrived on the scene by John McNeer
25 – After 100 years, Toledo still has a beautiful theatre by Jeff Stein
27 – Kalmes family has been serving Luxembourg fair for 172 years by Jessica Dunker
29 – More Iowas involved in Titanic tragedy
31 – Iowa History Quiz
36 – Letters to the Editor
Visit IowaHistoryJournal.com to subscribe!
No comments yet.
To comment on the story, leave a comment below.
To contact Mike, go to the contact page
Upcoming Speeches and Appearances
Check back later for events
Journey: Reflections on 50 Years of Writing, Wrestling, Weightlifting, and Heroes – Order Today!
| | |
| --- | --- |
| | Order today by calling Culture House at 641-791-3072 or online through Paypal by clicking the button below |
Super Book of Wrestling Trivia – Order today!
| | |
| --- | --- |
| | Order today by calling Culture House at 641-791-3072 or online through Paypal by clicking the button below |
Oklahoma Shooter – Back by Popular Demand
| | |
| --- | --- |
| | Oklahoma Shooter: The Dan Hodge Story is $75 plus $5 for shipping and handling. All copies are signed by Dan Hodge and Mike Chapman. You can order by sending a check or money order for $100.00 to Culture House, P.O.. Box 293, Newton, IA 50208, or by calling 641-791-3072. |