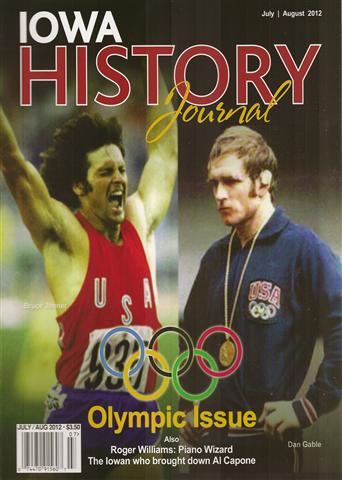 The state of Iowa has a long and proud history of involvement in the Olympic Games, dating all the way back to 1904. In a fascinating article written by Don Doxsie, long time sports editor of the Quad City Times and a winner of many writing awards, that Olympic history is discussed in detail. Doxsie has done considerable research and also compiled two graphs – one of which shows which sports Iowans have won medals in, and the other which has a year-by-year breakdown of Iowa medal winners since 1904.
Readers will also be treated to feature stories on many other fascinating persons and moments in Iowa history – ranging from the piano talents of the legendary Roger Williams to the pilot who dropped the atomic bomb on Japan in 1945……to the meteorite that struck what is present day Manson almost 74 million years ago.
Also included in this issue:
The Honey War between Iowa and Missouri that almost resulted in a real-life battle between the bordering states.
The story of the Iowa-born attorney and judge who brought down Al Capone, one of the most notorious gangsters in American history.
How the Wolfe Eye Clinic started from humble origins and developed into one of the top eye health care facilities in the nation.
A book review on Little Heathens which is a delightful journey back into rural Iowa in the 1930s.
Columns by our regulars – Arvid Huisman, John McNeer and Mike Chapman
…and much more!
Contents
3 – Publisher's Perspective: Olympic legend Mathias recalled by Mike Chapman
4 – Olympic dreams blossom in Iowa over the decades by Don Doxsie
7 – Corydon still honors hero from 1932: by Mike Chapman
19 – Bill Smith is UNI's only Olympic champion
11 – Pilot who dropped atomic bomb had roots in Iowa by Jeff Stein
13 – Country Roads: By whatever name, cricks are beautiful by Arvid Huisman
14 – Meteorite was a big hit ….74 million years ago by John Skipper
17 – Piano talents were Rogers Williams' path to the top by Robert Weast
20 – The Iowans who brought down infamous Capone by Al Nelson
24 – The Way We Were: Ice cream was a very special treat by John McNeer
25 – Wolfe Eye Clinics started in 1919 in Marshalltown by Pete Hussmann
27 – Iowa almost fought Missouri in 'Honey War' by Kyle Martin
29 – Book Review: Little Heathens tells of Iowa life many years ago by Mike Chapman
31 – Iowa History Quiz
36 – Letters to the Editor
Visit IowaHistoryJournal.com to subscribe!
No comments yet.
To comment on the story, leave a comment below.
To contact Mike, go to the contact page
Upcoming Speeches and Appearances
Check back later for events
Journey: Reflections on 50 Years of Writing, Wrestling, Weightlifting, and Heroes – Order Today!
| | |
| --- | --- |
| | Order today by calling Culture House at 641-791-3072 or online through Paypal by clicking the button below |
Super Book of Wrestling Trivia – Order today!
| | |
| --- | --- |
| | Order today by calling Culture House at 641-791-3072 or online through Paypal by clicking the button below |
Oklahoma Shooter – Back by Popular Demand
| | |
| --- | --- |
| | Oklahoma Shooter: The Dan Hodge Story is $75 plus $5 for shipping and handling. All copies are signed by Dan Hodge and Mike Chapman. You can order by sending a check or money order for $100.00 to Culture House, P.O.. Box 293, Newton, IA 50208, or by calling 641-791-3072. |