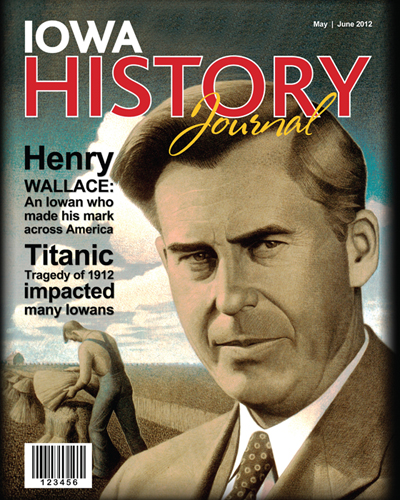 When the USS Titanic sank in the frigid waters of the Atlantic Ocean on April 15, 1912, it was front page news all over the world. Over 1500 people perished on the ship and among the casualties – and survivors – were several Iowans. A century later, the Titanic legacy lives on. At the Brucemore Estate in Cedar Rapids visitors can see an extensive exhibit which tells the story of the Titanic and its many Iowa connections.
Readers will also be treated to feature stories on many other fascinating persons and moments in Iowa history – ranging from the impact of philanthropist Andrew Carnegie on over 100 Iowa libraries to memorable moments by Iowans who played in the major leagues.
Also included in this issue:
Henry A. Wallace is not only one of the most important figures in all of agricultural history, he was also one heartbeat away from being president of the United States.
USS Iowa battleship has finally found a permanent home and will open as a museum later this summer.
EMC has been a huge player in the world of insurance for over 100 years and is an Iowa landmark and institution.
Music of all kinds has been featured at the legendary Val Air Ballroom in Des Moines for many decades, attracting some of the biggest names in the music industry.
Columns by our regulars – Arvid Huisman, John McNeer and Mike Chapman
…and much more!
Contents
3 – Publisher's Perspective: Brooklyn & Keokuk have John Wayne connections by Mike Chapman
4 – Wallace was one heartbeat away from the U.S. presidency by Jerry Harrington
8 – Unsinkable Memories: Iowa has many ties to Titanic tragedy by Jessica Lowe
11 – Iowa Country Roads: Opa and his horses: Lessons that endure by Arvid Huisman
12 – Diamond Gems: Iowans made "major" impacts in baseball by Don Doxsie
16 – USS Iowa is almost home by Jeff Lamberti
19 – We've been "Counting on EMC" for 100 years now by Pete Hussmann
21 – Andrew Carnegie gave libraries big boost in Iowa by Jen Kuenstling
23 – The Way We Were: Planting gardens is a key part of our heritage by John McNeer
25 – The Music Plays On: Val Air Ballroom still a very popular spot by Michael Swanger
28 – What's In a Name: Osage: City of Maples has much to offer
29 – Book Review: The Depression Dilemmas of Rural Iowa 1929-1933 by Jeff Stein
31 – Iowa History Quiz
36 – Letters to the Editor
Visit IowaHistoryJournal.com to subscribe!
No comments yet.
To comment on the story, leave a comment below.
To contact Mike, go to the contact page
Upcoming Speeches and Appearances
June 7, 2014 – Catch Wrestling Alliance International Invitational: The Rebirth
August 26, 2014 – Speaking in Forest City
Calendar of Appearances
August 2014
M
T
W
T
F
S
S

28

29

30

31

1

2

3

4

5

6

7

8

9

10

11

12

13

14

15

16

17

18

19

20

21

22

23

24

25

26

Speaking in Forest City

The Winnebago Historical Society will celebrate Forest City's own Bob Baker on Tuesday, August 26, with Iowa History Journal's Mike Chapman, who will speak at several venues in town.

Chapman will speak at the Forest City Rotary Club at noon in Salveson Hall's ballroom (106 S. Sixth St.) at Waldorf College. He will be at the Mansion Museum (336 N. Clark St.) from 1 p.m. to 2:30 p.m. He will speak at Forest Plaza Assisted Living (635 Highway 9, E.) at 3 p.m. He will introduce and play one of Bob Baker's films in the community room at Titonka Savings Bank (101 Highway 69, N.), starting at 7 p.m. Free admission with popcorn and refreshments.

Bob Baker, a singing cowboy in movies in the late 1930s, was born Stanley Leland Weed on Nov. 8, 1910, in Forest City. He was selected to star as a singing cowboy for Universal Studios in 1937, beating out several young men for the position – including Leonard Slye, who went on to become famous as Roy Rogers. Stanley's parents were Guy and Ethel (Leland) Weed. He served in the U.S. Army, was a police officer in Arizona and ran a dude ranch. He died Aug. 29, 1975.

27

28

29

30

31
Super Book of Wrestling Trivia – Order today!
| | |
| --- | --- |
| | Order today by calling Culture House at 641-791-3072 or online through Paypal by clicking the button below |
Oklahoma Shooter – Back by Popular Demand
| | |
| --- | --- |
| | Oklahoma Shooter: The Dan Hodge Story is $22 plus $5 for shipping and handling. You can order by sending a check or money order for $27.00 to Culture House, P.O.. Box 293, Newton, IA 50208, or by calling 641-791-3072. |