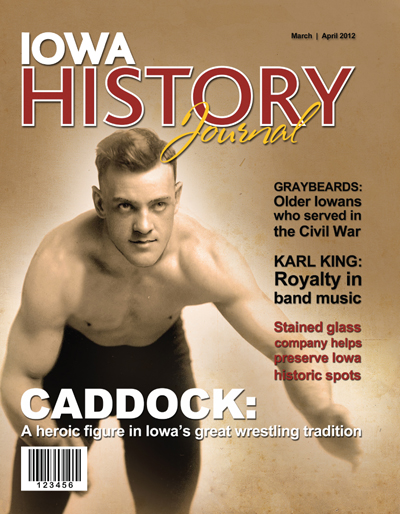 In 1917, Earl Caddock of Walnut, Iowa, defeated Joe Stecher of Dodge, Nebraska, to win the world heavyweight wrestling championship. The victory catapulted Caddock into the national spotlight and made him one of the most popular athletes in the entire nation. Shortly after, he signed up to fight in World War I and eventually suffered lung damage from a mustard gas attack in France. After the war, Earl came home to Iowa and became a successful businessman, family man, and devout Christian. His story, written by wrestling historian Mike Chapman, is both heroic and inspirational.
Readers will also be treated to feature stories on Fort Dodge's legendary marching band composer Karl L. King, older Iowans known as "Graybeards" who served in the Civil War, WHO Radio's Jack Shelley and the Bogenrief glass cutting studio in Spencer.
Also included in this issue:
Lillian Blanche Fearing blazed a trail for blind women over a century ago
How the city of Oelwein got its name and the importance of the railroad to that Fayette County community
A book review of the photographic career of Iowa newspaper professional Joan Liffring-Zug Bourret
Waterloo names its newest school for Fred Becker, Iowa's first All-America football player
The Iowa History Quiz
Columns by our regulars – Arvid Huisman, John McNeer and Mike Chapman
…and much more!
Contents
3 – Publisher's Perspective: Teaching Iowa history results in special song by Mike Chapman
4 – King of the Band Circus Musician put Fort Dodge on the Map by Robert Weast
8 – A Different View: Young Blanche adjusts to a life of blindness by Peggy Chong
11- Iowa Country Roads: License plates faced a bumpy ride by Arvid Huisman
12 – Earl Caddock: Wrestling legend from Walnut by Mike Chapman
16 – The Graybeards: Older Iowans served during Civil War by Floyd E. Pearce
19 – Bogenrief Studios preserve buildings in Spencer area by John Busbee
23 – The Way We Were: Making laundry soap was memorable task by John McNeer
25 – WHO's Jack Shelley told Iowans about their home state by Jeff Stein
27 – What's In a Name: Railroads played key role in Oelwein by John Skipper
29 – Book Review: Iowan made history with her camera by Jessica Lowe
31 – Iowa History Quiz
33 – Waterloo names school in honor of Fred Becker
36 – Letters to the Editor
Visit IowaHistoryJournal.com to subscribe!
No comments yet.
To comment on the story, leave a comment below.
To contact Mike, go to the contact page
Upcoming Speeches and Appearances
Check back later for events
Journey: Reflections on 50 Years of Writing, Wrestling, Weightlifting, and Heroes – Order Today!
| | |
| --- | --- |
| | Order today by calling Culture House at 641-791-3072 or online through Paypal by clicking the button below |
Super Book of Wrestling Trivia – Order today!
| | |
| --- | --- |
| | Order today by calling Culture House at 641-791-3072 or online through Paypal by clicking the button below |
Oklahoma Shooter – Back by Popular Demand
| | |
| --- | --- |
| | Oklahoma Shooter: The Dan Hodge Story is $75 plus $5 for shipping and handling. All copies are signed by Dan Hodge and Mike Chapman. You can order by sending a check or money order for $100.00 to Culture House, P.O.. Box 293, Newton, IA 50208, or by calling 641-791-3072. |