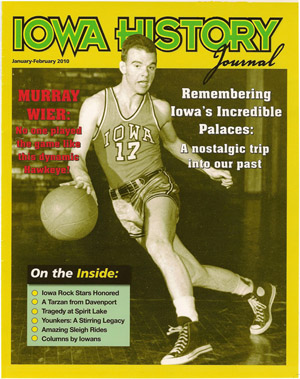 The January, 2010, issue features articles on the great career of Iowa basketball legend Murray Wier, former movie Tarzan Jock Mahoney of Davenport, the Younkers store dynasty, the Iowa Rock 'n' Roll Hall of Fame and the Spirit Lake Massacre of 1857!
Also columns by regulars Mike Chapman, Arvid Huisman and John McNeer; Iowa History Quiz, and a book review on the best-selling book "The Girls of Ames."
The feature article in the issue is about the great Corn Palaces of Iowa.
Inside the Issue:
The Day Tarzan came to Iowa
Natural Royalty, Iowa's Palaces – by Bill Sherman
Murray Wier, the Magic Man – by Buck Turnbull
Iowa Country Roads – Memories live on in farmhouses – by Arvid Huisman
Rock 'n Roll Museum … Here to stay – by Michael Swanger
Jock Mahoney, King of the Jungle – by Mike Chapman
Iowa Book Review on "Girls from Ames" – by Jessica Lowe
The Way We Were – Phones once shared by everyone – by John McNeer
Memory of the Spirit Lake Massacre – by Pete Hussmann
Younkers' 150-Year Heritage – by Staff Writers
When Sleighs took over Council Bluffs – by Frank Heath
What's in a Name: Waverly & Bremer County
Iowa History Quiz
Nile Kinnick Quotes: The Power of the Bible
Letters to the Editor
Visit IowaHistoryJournal.com to subscribe!
No comments yet.
To comment on the story, leave a comment below.
To contact Mike, go to the contact page
Upcoming Speeches and Appearances
Check back later for events
Journey: Reflections on 50 Years of Writing, Wrestling, Weightlifting, and Heroes – Order Today!
| | |
| --- | --- |
| | Order today by calling Culture House at 641-791-3072 or online through Paypal by clicking the button below |
Super Book of Wrestling Trivia – Order today!
| | |
| --- | --- |
| | Order today by calling Culture House at 641-791-3072 or online through Paypal by clicking the button below |
Oklahoma Shooter – Back by Popular Demand
| | |
| --- | --- |
| | Oklahoma Shooter: The Dan Hodge Story is $75 plus $5 for shipping and handling. All copies are signed by Dan Hodge and Mike Chapman. You can order by sending a check or money order for $100.00 to Culture House, P.O.. Box 293, Newton, IA 50208, or by calling 641-791-3072. |