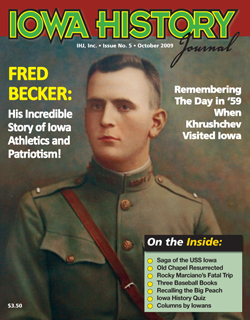 Issue number 5, October 2009, of the Iowa History Journal is now available.
Inside the issue:
Saga of the USS Iowa
Old Chapel Resurrected
Rocky Marciano's Fatal Trip
Three Baseball Books
Recalling the Big Peach
Iowa History Quiz
Columns by Iowans
Visit IowaHistoryJournal.com to subscribe!
No comments yet.
To comment on the story, leave a comment below.
To contact Mike, go to the contact page
Upcoming Speeches and Appearances
October 17, 2017 – "Triumph and Tragedy" Speech - Clear Lake, Iowa
October 28, 2017 – History and Legacy of Wrestling Speech - Kothe Memorial Library - Parkersburg, IA
Journey: Reflections on 50 Years of Writing, Wrestling, Weightlifting, and Heroes – Order Today!
| | |
| --- | --- |
| | Order today by calling Culture House at 641-791-3072 or online through Paypal by clicking the button below |
Super Book of Wrestling Trivia – Order today!
| | |
| --- | --- |
| | Order today by calling Culture House at 641-791-3072 or online through Paypal by clicking the button below |
Oklahoma Shooter – Back by Popular Demand
| | |
| --- | --- |
| | Oklahoma Shooter: The Dan Hodge Story is $75 plus $5 for shipping and handling. All copies are signed by Dan Hodge and Mike Chapman. You can order by sending a check or money order for $100.00 to Culture House, P.O.. Box 293, Newton, IA 50208, or by calling 641-791-3072. |