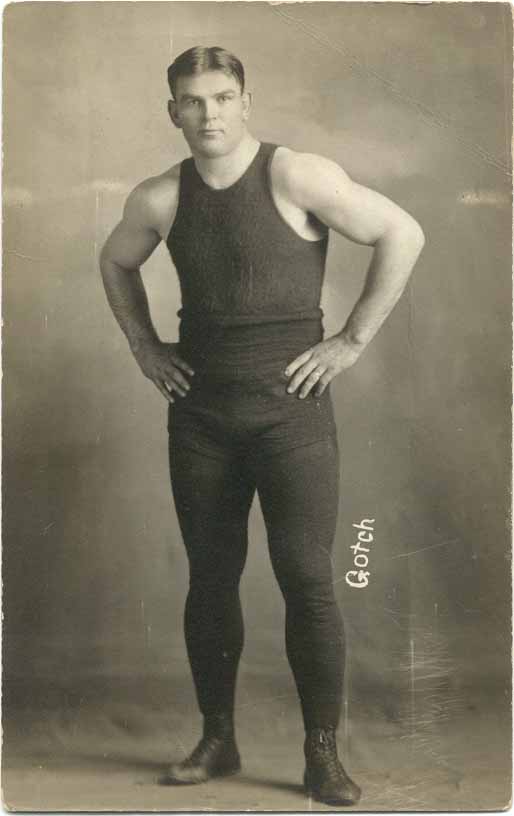 The dream of erecting a statue of former world heavyweight wrestling champion Frank Gotch has become a reality.
After 15 months of planning, which included a tireless fundraising effort, the committee has raised enough funds to hire a sculptor to begin the project.
The Frank Gotch Statue Committee has signed a contract to hire sculptor Jeff Adams of Oregon, Illinois, to create a bronze statue of Gotch, to be placed at Bicknell Park in Humboldt, the historic training site for Frank Gotch in the early 1900s.
The eight-foot tall bronze statue of Gotch will be placed on a three-foot base. The project is expected to be completed by next summer, with a final date and unveiling ceremony yet to be determined.
The committee has raised enough money to begin the project, but there are still bricks available to any person or groups wanting to have their name on a brick that will be part of the landscaping around the museum. Among those who have purchased bricks are three Olympians and several former professional wrestling champions.
There are four levels of bricks that can be purchased:
State Champion – name on a 4 inch by 8 inch brick for $250 donation;
National Champion – Name on a 6 inch by 8 inch brick for a $250 donation;
World Champion – name on an 8 inch by 8 inch brick for $500 donation;
Gotch Champion – name on a cement bench near the statue, for a $3,000 donation.
Anyone wishing to donate may contact Mike Chapman at 641-791-3072 or send their check directly to Friends of the Park, Frank Gotch Project, c/o Tonya Harklau, 902 8th Avenue N., Humboldt, Iowa 50548.
Gotch, one of Iowa's most famous citizens, was born and raised in Humboldt and never left, despite many offers to leave for life in the big city. Gotch won the heavyweight wrestling title in 1908 and never lost again, winning 88 consecutive matches before retiring in 1916 undefeated. Gotch died of kidney failure in his home at the age of 39, on December 16, 1917.
"We're really excited to have finally gotten to this point where we have enough funding so we can hire a sculptor and get this process under way," said committee chairman Steve Reimers. "It's been a lot of hard work but everybody has pitched in to make this project a reality."
"We appreciate the support and pledges we've received up to this point. Now that we have a sculptor signed, we need to keep our fundraising effort going so we can raise funds to really complete the landscaping around the statue and make some improvements to the park," Reimers said.
"The committee should be commended for their dedication and hard work on this project, along with those in the community who have provided funding. Very impressive to see this become a reality. This will be a great thing for the community and will also grow and maintain the huge legacy Gotch left behind," said committee chairman and Gotch historian Mike Chapman of Newton.
Gotch, known as the Michael Jordan of his own era in the early 1900s, was as well-known in his era, as any athlete since. Chapman, who has authored several books on Gotch, says Gotch is the best-known athlete, per era, in Iowa history, even when you compare him to Bob Feller, Nile Kinnick, Dan Gable or even Olympian Shawn Johnson.
"Gotch was the star of a play that went up and down the east coast and to Europe and drew sellout crowds," Chapman said. "Frank Gotch was invited twice to the White House by President Teddy Roosevelt. Gotch was also wooed by young Hollywood to become a movie actor. Gotch was being courted to run for governor of Iowa in 1920."
"Frank Gotch was the co-owner of an automobile company, owned nearly a thousand acres of prime farm land in Iowa and Minnesota and was on the board of directors of several companies," Chapman said.
Committee members include Steve Reimers, Bruce Reimers, Tonya Harklau, Ron Wasoba, Maury Abens, Chad Beaman, Jana Bratland, Ken Bratland, Kent Clendenen, Jeff Dreyer, Todd Lee, Phil Monson, Larry Leibold, Steve Samuels, Kevin Tellier, all of Humboldt. Mike Chapman and Frank Gotch III, of Austin, Texas, are also members.
No comments yet.
To comment on the story, leave a comment below.
To contact Mike, go to the contact page
Upcoming Speeches and Appearances
Check back later for events
Journey: Reflections on 50 Years of Writing, Wrestling, Weightlifting, and Heroes – Order Today!
| | |
| --- | --- |
| | Order today by calling Culture House at 641-791-3072 or online through Paypal by clicking the button below |
Super Book of Wrestling Trivia – Order today!
| | |
| --- | --- |
| | Order today by calling Culture House at 641-791-3072 or online through Paypal by clicking the button below |
Oklahoma Shooter – Back by Popular Demand
| | |
| --- | --- |
| | Oklahoma Shooter: The Dan Hodge Story is $75 plus $5 for shipping and handling. All copies are signed by Dan Hodge and Mike Chapman. You can order by sending a check or money order for $100.00 to Culture House, P.O.. Box 293, Newton, IA 50208, or by calling 641-791-3072. |