Tuesday, September 22nd, 2009 | Wrestling
From the Dan Gable International Wrestling Institute and Museum's website:
Five of the greatest stars in Greco-Roman history and one of the most important political figures of the past decade – along with an Iowa family with a sensational wrestling background – will be honored on Oct. 16-17, 2009, at the inaugural inductions into the Alan and Gloria Rice Greco-Roman Hall of Champions.
The hall is located in the Dan Gable International Wrestling Institute and Museum here, and is named for Alan and Gloria Rice, a husband-and wife team that has been one of the most influential forces in American wrestling history. Greco-Roman wrestling is a style that allows only holds above the waist, and Alan Rice has been one of its staunchest advocates for half a century.
The five champions to be inducted are:
Steve Fraser, 1984 Olympic champion and a coach of the 2007 World championship team in Greco-Roman;
Jeff Blatnick, 1984 Olympic champion in the unlimited class;
Mike Houck, 1985 World champion, the first in U.S. history;
Dennis Hall, 1995 World champion and a silver medalist in the 1996 Olympics;
Joe Warren, 2006 World champion and two-time national champion.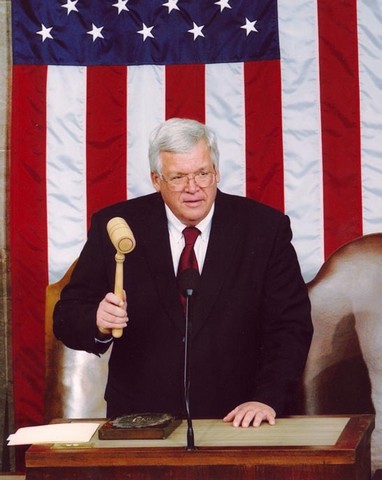 In addition, Dennis Hastert, former Speaker of the House of the United States Congress, will receive the "Sport of Lincoln Award" for meritorious service to the sport, and the Doug Reiter family of Jesup will receive the first ever "Iowa Legacy Award."
A 10-term Congressman from Illinois, Hastert was a successful college wrestler and high school coach, and has been a major supporter of the sport for decades. He has been an advocate for modifying Title 9 rules to allow for protection of male sports while supporting growth for women athletics, and played a key role in keeping several colleges from dropping the sport.
Hastert served as Speaker from 1999 to 2007 and is the longest serving Republican House Speaker in U.S. history. He resigned his Congressional position on Nov. 26, 2007, and today is in demand as a public speaker and as an adviser on a number of prominent issues. His biography, Speaker, will be available for purchase.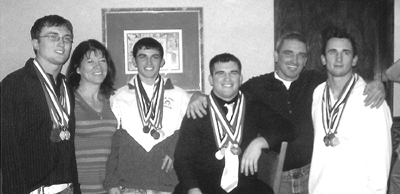 The Reiter family has made a remarkable impact on the sport in the state of Iowa. Doug and Janet have four sons – Joe, Mack, Eddie and Bart – and between them they won nine individual state titles, and 15 medals at the state high school championships. It is the only family in Iowa to have TWO four-time state champions in Mack and Bart.
Joe Reiter was a state champion and three-time finalist, and was expected to win his second title when he was sidelined for the season by a concussion. He was riding a 45-match winning streak at the time. Eddie Reiter placed all four times he went to the state meet, with a third his final season.
"This is a terrific way for the museum to honor Iowa families with a superb wrestling tradition," said Kent Sesker, marketing director. "We are very excited about this award and its future impact for the museum."
The weekend event will include a free Greco-Roman clinic for youth wrestlers by world champions Dennis Hall and Joe Warren at 9:00 a.m. Saturday at the Dan Gable Teaching Center in the museum.
The official inductions will take place at 2 p.m. Saturday, followed by a reception. The banquet will be at the Five Sullivans Brothers Convention Center, at 7 p.m. (social starting at 6 p.m.).
"This is a great event for all of wrestling and the entire State of Iowa," said Gable, who also coached the 1980 and 1984 Olympic freestyle teams. "We are pleased to have Alan and Gloria Rice as such a special part of the museum. They have made a huge contribution to the sport over the decades and this is a perfect way to let Alan know we appreciate all his work for the sport."
"This is a wonderful opportunity to honor some of America's greatest athletes and to meet a man who was third in line to the Presidency," said Mike Chapman, the museum's executive director. "This is a huge event for the Cedar Valley and we invite all sports fans and Olympic fans to come share this day with us."
Admission to the museum is $6 per person and $3 for kids. The banquet is $25 per person and is limited in seating. Banquet reservations must be made by October 10, by calling the museum at 319-233-0745.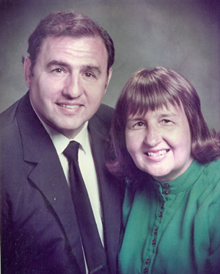 ALAN RICE was a Big Ten champion and an All-American at the University of Minnesota. In 1956, he pulled off a rare double by winning national titles in both freestyle and Greco-Roman, one of the last two men to ever accomplish that feat. He also made the 1954 World freestyle team, placing fifth, and was a member of the 1956 Greco-Roman Olympic team.
He coached the 1972 Olympic team in Greco-Roman and has coached two World teams. He and his wife, Gloria, helped found the Minnesota Wrestling Club. The club enjoys the unique distinction of placing a wrestler on every World and Olympic team since 1964, a record unequalled in American wrestling history.
"This is a tremendous honor for Greco-Roman wrestling, and for Gloria and me," said Rice. "Greco-Roman is a very tough, physical style that demands total commitment and dedication. I am thrilled that the Dan Gable International Wrestling Institute and Museum has chosen to honor these special athletes in such a fashion."
Gloria Rice was also a key player in wrestling circles. She was the first woman to learn the complicated international pairings system and then taught it to other American officials. Her attention to detail at the 1969 World Championships played a role in the winning of the first gold medal at that level by an American when she caught a pairing error that could have eliminated the American entrant.
Gloria and Alan Rice traveled the world to attend wrestling events at the highest level. She passed away on Sept. 1, 2001. In a newspaper editorial, she was lauded as "a valuable asset to the Twin Cities metro area, the state of Minnesota and beyond," citing her work in the community, the church and amateur wrestling.
THERE are two other halls of recognition in the Gable Museum: the Glen Brand Wrestling Hall of Fame of Iowa and the George Tragos/Lou Thesz Professional Wrestling Hall of Fame. In addition, the AAU National Wrestling Hall of Fame has its own wall in the museum.
The Alan and Gloria Rice Greco-Roman Hall of Champions is positioned between the Glen Brand Wrestling Hall of Fame of Iowa and the Dan Gable Teaching Center. It will house various artifacts from Greco-Roman wrestling history.
There are a total of nine spots in the museum named after various people:
Dean Rockwell Library and Research Center
Glen Brand Wrestling Hall of Fame of Iowa
Dan Gable Teaching Center
Alan and Gloria Rice Greco-Roman Hall of Champions
George Tragos/Lou Thesz Professional Wrestling Hall of Fame
Arno Niemand Video Room
Warren and Jayne DePrenger MATMAN Gift Shop
Bob Siddens-Keith Young-Dave Natvig Lounge
Abe Lincoln Lobby
No comments yet.
To comment on the story, leave a comment below.
To contact Mike, go to the contact page
Upcoming Speeches and Appearances
Check back later for events
Journey: Reflections on 50 Years of Writing, Wrestling, Weightlifting, and Heroes – Order Today!
| | |
| --- | --- |
| | Order today by calling Culture House at 641-791-3072 or online through Paypal by clicking the button below |
Super Book of Wrestling Trivia – Order today!
| | |
| --- | --- |
| | Order today by calling Culture House at 641-791-3072 or online through Paypal by clicking the button below |
Oklahoma Shooter – Back by Popular Demand
| | |
| --- | --- |
| | Oklahoma Shooter: The Dan Hodge Story is $75 plus $5 for shipping and handling. All copies are signed by Dan Hodge and Mike Chapman. You can order by sending a check or money order for $100.00 to Culture House, P.O.. Box 293, Newton, IA 50208, or by calling 641-791-3072. |