Uncategorized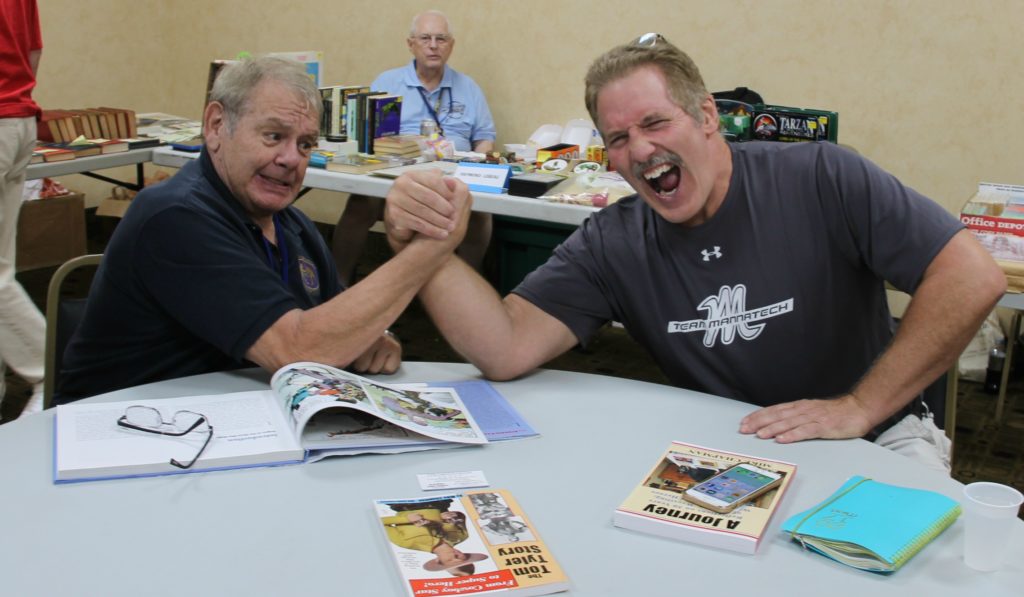 The annual Tarzan convention was held August 3-5 in Coldwater, Michigan, and that gave longtime friends Dan "the Beast" Severn (right) and Mike Chapman (left) a chance to get together again…and do a little arm wrestling for fun. Dan was an All-American wrestler in college at Arizona State who went into mixed martial arts and became a super star. He is a former three-time champion of the UFC (Ultimate Fighting Championships) and is a veteran of nearly 130 cage matches. He was world heavyweight champion in professional wrestling, as well. Dan has appeared in several movies and TV shows and is member of numerous halls of fame. He owns a MMA training facility in Coldwater and came to the Tarzan convention to hang out with Mike, who was a guest speaker and exhibitor. Mike, who is a member of 9 halls of fame, has hosted three Tarzan conventions and is a former recipient of the Golden Lion award, the top honor in the Tarzan world.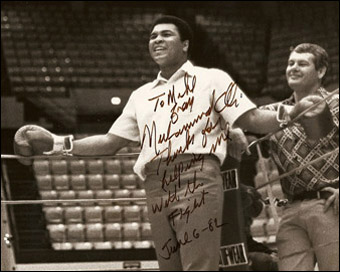 With the passing of Muhammad Ali today, I find myself reflecting back on two occasions that I spent time with "The Greatest" They are among the most cherished moments of my 35-year journalism career and I would like to share them with all the Facebook friends of my three children, Jacquie, Jenny and Jason. The picture you see here is of me and Muhammad in Cedar Rapids on June 6, 1982.
In my opinion, Muhammad Ali (aka Cassius Clay) is the greatest heavyweight boxing champion ever, and maybe even the greatest sports figure of all time. It has been stated that during his peak years as champion, in the 1970s, his was the best known name on the planet. You could travel to the far corners of the civilized world, or to tiny huts in small African villages, and more people would recognize the name Muhammad Ali than that of any other person alive, including presidents, kings, queens and movie stars.
The first time I was around Ali was in the winter of 1978 when I was managing editor of the Daily Sentinel newspaper in Woodstock, Illinois, about sixty miles northwest of Chicago. One morning at my desk, I read in a Chicago newspaper that Ali was going to hold a sparring session in the Windy City Boxing Club. I turned to my sports editor, Don Doxsie, and said, "Grab your camera …. and let's go see Muhammad Ali."
April 9-10, 2106 – During the Olympic wrestling trials at Carver-Hawkeye Arena in Iowa City, Bev and Mike will have a booth with various books, posters and memorabilia for sale. The booth will be part of the WIN Fan Festival in downtown Iowa City, from 2-6 p.m. both days.
April 11, 2016 – At the 47th annual inductions into the Iowa Wrestling Hall of Fame held in Cresco, Mike will introduce his longtime friend Jim Duschen, who is being inducted. Mike and Jim have been friends for over 55 years and are graduates of East Waterloo High School. They wrestled on the same team at the Mare Island Naval Station in 1963 and Jim went on to become an All-American at Iowa State, a Greco-Roman national champion twice, 1973 World team member and a coaching legend in the state of Nevada.
April 30, 2016 — Mike will be the guest speaker at the Charles City Excellence in Education Foundation's fundraising and awards banquet at the Charles City Elks Lodge on April 30. The event is not open to the public.
May 13-14, 2016 – Mike will be a featured guest at the ceremonies in Perry, Oklahoma, honoring Dan Hodge and Jack VanBebber, both undefeated three-time NCAA champions in college and Olympic medal winners. The city of Perry has created a large area across from the county courthouse to honor Dan and Jack with statues, and all other great wrestlers from the city, one of the top wrestling towns in America. Many dignitaries are attending, including Dan and Dolores Hodge and their family.
July 3, 2016 – The first ever Frank Gotch Catch World Championships will be held in Humboldt, Iowa – the hometown of the legendary Frank Gotch — and Mike is one of the event organizers. He will have a booth of wrestling memorabilia on display at the event at Humboldt High School, and also many of his books and posters for sale. Catch wrestling is the type of wrestling that Gotch participated in during the start of the 20th Century and involves joint-lock submission holds not allowed in amateur wrestling.
Upcoming Speeches and Appearances
Check back later for events
Journey: Reflections on 50 Years of Writing, Wrestling, Weightlifting, and Heroes – Order Today!
| | |
| --- | --- |
| | Order today by calling Culture House at 641-791-3072 or online through Paypal by clicking the button below |
Super Book of Wrestling Trivia – Order today!
| | |
| --- | --- |
| | Order today by calling Culture House at 641-791-3072 or online through Paypal by clicking the button below |
Oklahoma Shooter – Back by Popular Demand
| | |
| --- | --- |
| | Oklahoma Shooter: The Dan Hodge Story is $75 plus $5 for shipping and handling. All copies are signed by Dan Hodge and Mike Chapman. You can order by sending a check or money order for $100.00 to Culture House, P.O.. Box 293, Newton, IA 50208, or by calling 641-791-3072. |