Newspaper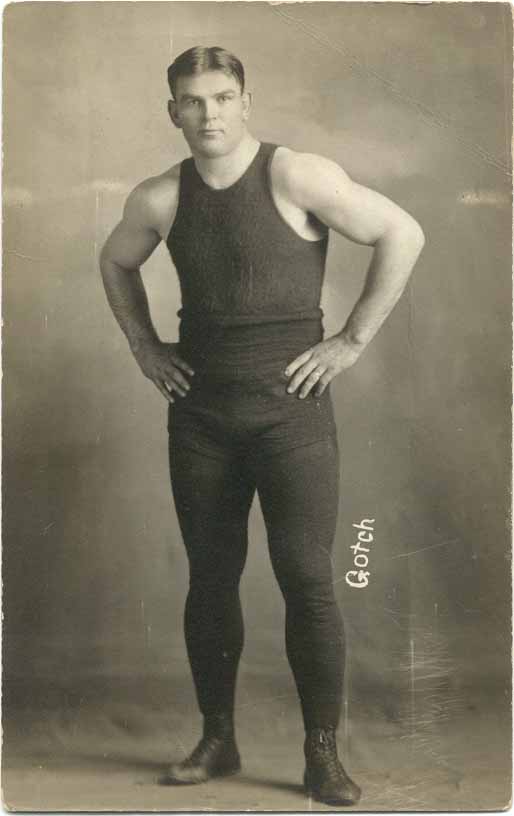 The dream of erecting a statue of former world heavyweight wrestling champion Frank Gotch has become a reality.
After 15 months of planning, which included a tireless fundraising effort, the committee has raised enough funds to hire a sculptor to begin the project.
The Frank Gotch Statue Committee has signed a contract to hire sculptor Jeff Adams of Oregon, Illinois, to create a bronze statue of Gotch, to be placed at Bicknell Park in Humboldt, the historic training site for Frank Gotch in the early 1900s.
The eight-foot tall bronze statue of Gotch will be placed on a three-foot base. The project is expected to be completed by next summer, with a final date and unveiling ceremony yet to be determined.
The committee has raised enough money to begin the project, but there are still bricks available to any person or groups wanting to have their name on a brick that will be part of the landscaping around the museum. Among those who have purchased bricks are three Olympians and several former professional wrestling champions.
A story ran in the Humboldt Independent this week detailing the fundraising efforts of the committee formed to raise a statue in Gotch's home town. Mike was the emcee at the event.
Gotch event raises funds and spirits
Frank Gotch open house puts group halfway to goal

By Kent Thompson

Frank Gotch would have been humbled by last Thursday's outpouring of support.

Members of the Frank Gotch Project Committee were proud.

About 140 people turned out Thursday, May 19, at Rustix Restaurant and Reception for a Frank Gotch Open House.

The event brought out wrestling stars from the past, as well as University of Iowa head wrestling coach Tom Brands, for autographs, mingling and photographs.

Gotch Committee member Tonya Harklau reported that $4,000 in memorial brick pavers were sold along with $6,706 in glass mugs, souvenirs and silent auction items, making for a very successful kickoff fundraiser.
The Des Moines Register did a short piece on the Iowa History Journal in its Biz Buzz section on Tuesday. The blurb reads:
Iowa writer and promoter Mike Chapman has a new venture, Iowa History Journal, which he began publishing with a soft launch last winter and which is now promoting its fifth issue.

The inaugural issue in January featured University of Iowa football legend Nile Kinnick. Subsequent covers featured former Iowans Herbert Hoover, Donna Reed and actor George "Superman" Reeves.

The October issue features Fred Becker, the first U of I football player to win All-American status. He died on a World War I battlefield.

Chapman is a former publisher of the Newton Daily News and founder of the Dan Gable International Wrestling Institute and Museum.

The Iowa History Journal is distributed to high schools and libraries. The October issue will be available soon in some bookstores, said publicist Donna Johnson. For subscription information, call (641) 792-0920 or go to IowaHistoryJournal.com.
(Source: www.desmoinesregister.com)
Upcoming Speeches and Appearances
Check back later for events
Journey: Reflections on 50 Years of Writing, Wrestling, Weightlifting, and Heroes – Order Today!
| | |
| --- | --- |
| | Order today by calling Culture House at 641-791-3072 or online through Paypal by clicking the button below |
Super Book of Wrestling Trivia – Order today!
| | |
| --- | --- |
| | Order today by calling Culture House at 641-791-3072 or online through Paypal by clicking the button below |
Oklahoma Shooter – Back by Popular Demand
| | |
| --- | --- |
| | Oklahoma Shooter: The Dan Hodge Story is $75 plus $5 for shipping and handling. All copies are signed by Dan Hodge and Mike Chapman. You can order by sending a check or money order for $100.00 to Culture House, P.O.. Box 293, Newton, IA 50208, or by calling 641-791-3072. |