This article appeared in the issue of WIN Magazine after the NCAAs:
The Brent Metcalf-Darrion Caldwell showdown on Saturday night, March 21, has generated as much excitement as I have seen in many years. The huge crowd was roaring all the way through the match, and buzzing for an hour afterwards. Since then, the chat rooms are full of chatter, much of it good and some of it way over the line, about the two wrestlers and what transpired.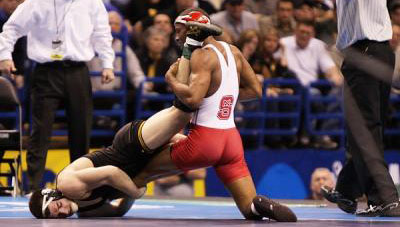 There has been a ton of analysis. What is indisputable is that North Carolina State's Caldwell wrestled a brilliant match, both in terms of strategy and execution. It was a marvelous performance by a superb athlete.
What has mystified many is that Metcalf, nearing legendary status for his incredible endurance and conditioning, seemed to tire noticeably as the match wore on. How is that possible, many are asking? How can someone who trains like Brent Metcalf be fatigued?
What I think many people are overlooking is the impact of two key factors:
Expectation anxiety and emotional fatigue!
Both are little known aspects of sports competition. They exist, nonetheless, and stepped to the center mat during the 149-pound bout.
Expectation anxiety had been dogging Metcalf all season long, and really came to the fore on Monday morning, three days before the tournament even started. Emotional fatigue made its appearance early in the match and largely determined the outcome.
For the finals, I was sitting in a skybox with Dan Hodge and our wives when the thought of emotional fatigue first struck me. I noticed that Caldwell ran out of the tunnel and up the steps onto the platform. He seemed sky high. It reminded me of how Larry Owings looked in 1970, when he came out to face Dan Gable in the finals of the 142-pound class. I was in press row, just a few feet away from the mat that night, and one of the reporters next to me said, "Wow, look at that. This guy Owings thinks he can win!" We both chuckled at the absurdity of such a thought.
As I watched Metcalf walking from the opposite side, I immediately thought of emotional fatigue. It was just the way Metcalf looked as he moved up the steps and approached the mat. When Caldwell scored his first takedown, electrifying the crowd, I expected a real dogfight.
But it didn't take long for Caldwell to show everyone that he was on fire. And it didn't take long for me to start thinking about emotional fatigue again.
Shortly after the match, I went to the adjoining skybox to seek out Dan Gable. He was sitting quietly, surrounded by his family – wife Kathy, daughters, sons in-laws, and grandkids. He looked lost in thought as I leaned down to talk.
"What happened?" I asked.
Dan shrugged, palms upward, as is his style when heavily involved in thought.
"It looked like Metcalf was tired, right from the start," said Gable. He paused. "I've seen it before at this level. Ed Banach against Mark Schultz (NCAA finals at 177 pounds, in 1982)… with Lincoln McIlravy against Steve Marinetti (150 pounds finals in 1995)…. and I felt it when I wrestled Owings (Gable's only loss after 181 straight wins in both high school and college). And here it is again tonight, with Metcalf."
Dan explained that when he wrestled Owings he just didn't feel 100 percent. He wasn't making excuses, mind you, just responding to my queries. "I was tired, like I hadn't experienced before," he said. But how could the man known for his incredible training routine and endurance be tired physically? It had to be emotional fatigue.
Years later, when I talked to Dr. Harold Nichols, Gable's coach in college, for a book I was writing, Nichols said he took the blame for not keeping the media away from Gable hours before the match. They were so demanding in their efforts to tell the Gable story that they followed him around non-stop. Nichols always felt that emotional fatigue robbed Dan that night of his energy, and helped Larry Owings to score the biggest upset in collegiate wrestling history.
EMOTIONAL FATIGUE is tied closely with anxiety. Anxiety expectation can be a tremendous booster in sports, or a terrifying enemy. Controlling the anxiety is the key!
"The real task involves not avoiding or creating anxiety before competition, but using it in controlled doses," wrote David R. Kauss in Peak Performance. "In sport, anxiety has the reputation of being both a crippler of sensitive performers and a motivator of athletes."
It seems anxiety may have been working very differently on Caldwell and Metcalf the night of March 21. With Caldwell, it was a motivator; with Metcalf, it was a crippler.
The pressure on Metcalf was immense. In some circles, he was being touted as the next Dan Hodge, Dan Gable or Cael Sanderson. All season long, various web site chat rooms seemed obsessed with him and his place in collegiate wrestling history. As I read some of the comments, I just shook my head in amazement. "He still has two NCAA tournaments to get through," I thought. Cut him a break.
It all came to a boil four days prior to the NCAA tournament. The Des Moines Register, the state's largest newspaper, printed a huge photo of him on the front page of the sports section, and the headline blared, "Best in the U.S.? Metcalf's the man."
The story didn't mention Caldwell, not even in the category of the most underrated wrestler. Metcalf was considered a shoo-in.
In another publication, a poll of 14 wrestling experts had all 14 picking Metcalf to win the 149-pound championship – just like Gable in 1970.
Talk about anxiety expectations!
When Evander Holyfield shocked the boxing world in 1996. by defeating Mike Tyson, he appeared calm prior to the fight. He understood the need to control the anxiety:
"Pressure bursts pipes," Holyfield said succinctly. "The difference between winning and losing is when pressure hits," and how you handle it.
Randy Couture was an exceptional wrestler before embarking upon a mixed martial arts career that has made him a legend. In my book, Wrestling Tough, I quote him thusly:
"… the most important thing is the way you approach a fight mentally. When I was wrestling, I wanted to win so badly that I placed way too high expectations on myself, and too much pressure. It all built up inside me and some times it would leave me too tense to perform up to my best."
Bingo! Tension of that type leads to emotional fatigue.
With all the hype that had been building all season long, Metcalf must have felt much the way Couture expressed. Imagine yourself in his position after Friday night's semifinals, knowing you are the only Hawkeye in the finals and that the team race is extremely close and that your victory may be essential to a team triumph. Coupled with the season long hype, the pressure was overwhelming.
Caldwell, on the other hand, was cruising along splendidly ever since a crushing defeat by Metcalf at the All-Star Classic in November. Sure, he had lost 19-3, but he also knew that the match did not count on their "official" record and was, therefore, somehow, less than "important."
(For the record, I count such matches, and so do most other fans I have talked to, including the publisher and editor of WIN. To ignore a match with two college wrestlers under college rules in the college season is ridiculous.)
With nothing to lose – much like Larry Owings in 1970 and Evander Holyfield in 1996 – Caldwell used the buildup and the pressure to the NCAA showdown as a motivator.
All the pressure on the night of March 21 was on the man who was considered virtually unbeatable. It was all on Brent Metcalf.
Gable explained that some times you don't even realize it's happening (the anxiety buildup and the emotional fatigue) until you're in the match, and by then it's too late. You know you're not yourself, and that you're not firing on all cylinders but there's very little that can be done.
"If the other guy is good enough to take advantage of that situation, you're in big trouble," said Gable.
IT HAPPENS mostly in combative sports, where the one-on-one element adds tremendous pressure. There is nowhere to hide as in other sports, where there are teammates at your side to shelter you, to help diffuse the situation; you are, as they say, naked in the storm.
Lincoln McIlravy, one of the greatest college wrestlers to ever step on a mat, won the NCAA title as a true freshman and repeated as a sophomore. Going for his third title in 1995, against Steve Marinetti, a mentally tough and highly motivated wrestler from Illinois, McIlravy suddenly felt drained. It was from the intense buildup, of riding a long winning streak en route to what most felt would be four NCAA titles.
Long after that match, McIlravy said he felt so weak he could barely get up the steps to the platform, and his grip had no strength. He was not sure why.
There is no way under the sun that Brent Metcalf was not prepared physically on the night of March 21. He is a tremendous trainer with a huge gas tank. But he appeared tired early in the match. Even Caldwell noticed it. During his post-match interview, he said he could hear Metcalf groaning (with fatigue) and knew he was tired.
"He's human," said Caldwell.
That's what we tend to forget as we look upon these incredible athletes, warriors in singlets. They are human, and very young. They are still learning about life, and about competition at the highest levels.
And two of the toughest issues to understand are expectation anxiety and emotional fatigue. They are, in my opinion, the little-discussed factors in what happened March 21, in St. Louis, in the 149-pound class.
Darrion Caldwell should be highly honored for what he accomplished; his game plan was brilliant and he executed it with tremendous skill, courage and determination. But we should also try to understand the stifling pressures that Brent Metcalf endured along the path to the finals.
No comments yet.
To comment on the story, leave a comment below.
To contact Mike, go to the contact page
Upcoming Speeches and Appearances
Check back later for events
Journey: Reflections on 50 Years of Writing, Wrestling, Weightlifting, and Heroes – Order Today!
| | |
| --- | --- |
| | Order today by calling Culture House at 641-791-3072 or online through Paypal by clicking the button below |
Super Book of Wrestling Trivia – Order today!
| | |
| --- | --- |
| | Order today by calling Culture House at 641-791-3072 or online through Paypal by clicking the button below |
Oklahoma Shooter – Back by Popular Demand
| | |
| --- | --- |
| | Oklahoma Shooter: The Dan Hodge Story is $75 plus $5 for shipping and handling. All copies are signed by Dan Hodge and Mike Chapman. You can order by sending a check or money order for $100.00 to Culture House, P.O.. Box 293, Newton, IA 50208, or by calling 641-791-3072. |