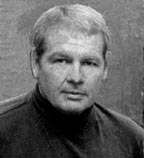 A native of Waterloo, Iowa, Mike Chapman retired from a 35-year newspaper career in 2002 and in 2009 retired from an 11-year career serving as the executive director of the Dan Gable International Wrestling Institute and Museum (DGIWIM). Currently he writes books and publishes the Iowa History Journal six times a year.
Mike is an author and public speaker who has promoted Iowa History for over a decade. He has written 26 books, 15 of them on wrestling, and his articles have appeared in dozens of national and regional magazines. He has produced four videos and has two screenplays in Hollywood (see empirefilmgroup.com.)
As a reporter, he has attended 43 NCAA wrestling tournaments, two Olympics and two World Championships. He has won numerous awards for journalism and writing. He has been named National Wrestling Writer of the Year five times, by four different amateur wrestling organizations.
He is a member of six halls of fame. In 2002, he received the Lifetime Achievement Award from the CAC (Cauliflower Alley Club), an organization of boxers, wrestlers and movie actors), and in 2007 he received the Order of Merit for lifetime achievement from the National Wrestling Hall of Fame in Stillwater, Oklahoma.
Mike is also the founder of WIN Magazine, the nation's top amateur wrestling publication; the WIN Memorabilia Show, which draws 8,000 fans each year to the NCAA Championships; and the "Dan Hodge Trophy," which goes each year to the top college wrestler in the United States. It has been called "the Heisman Trophy of wrestling."
As a writer, he has met and interviewed such people as Ronald Reagan, Muhammad Ali, Robert Redford, Lou Ferrigno (The Incredible Hulk from TV fame) and many other famous stars of movies and sports. Mike has appeared on numerous TV shows –including the networks ESPN, A&E, Fox Sports, Iowa Public Television and Fox and Friends. He has been the guest on over 200 radio talk shows.
Mike is also a recognized authority on Achilles and Tarzan. In 2004, he was given the "Golden Lion Award," the highest honor in the Tarzan fraternity, which stretches all around the world. His 2004 novel, "Achilles: Son of Peleus, Scourge of Troy," is the story of the great Greek hero who fought at the Trojan War over 3,000 years ago. In October of 2006, Mike and his son Jason visited ancient Troy, in northwestern Turkey, to do more research on Achilles and the Trojan War.
As an athlete, he competed in wrestling, judo, sombo and bench press contests.
| | |
| --- | --- |
| | With Lou Thesz, legendary World Heavyweight Wrestling Champion |
| | |
| --- | --- |
| On the Tomb of Achilles in Turkey | |
| | |
| --- | --- |
| | With Ronald Reagan in Dixon, IL |
| | |
| --- | --- |
| Mike and Bev with Lou Ferrigno, "The Incredible Hulk" | |
| | |
| --- | --- |
| | Ringside with Muhammad Ali |